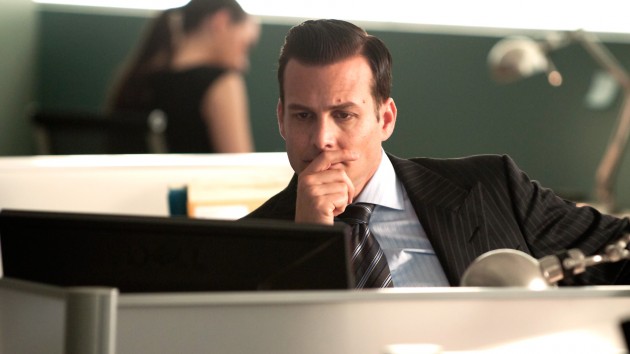 It looks like Mike still has quite a lot to learn about holding his own at Pearson-Hardman in this episode of Suits. I was again surprised that the genius associate didn't know how to fill out a patent for a product, but I knew in the back of my mind that Mike, being a genius, doesn't necessarily know everything about the Law. I face-palmed when a fellow associate, Gregory Boone, "offered" to help Mike out with the patent in exchange for helping him proof the Bainbridge briefs. Bad move, Mike, bad move. I find, after watching that scene with Mike and Gregory, that Mike trusts people too easily and doesn't realize that the people that he does trust won't help him because it's every person for themselves at Pearson-Hardman.
I also felt a bit sorry for Harvey when he went in front of a judge, Donald Pearl (guest star Currie Graham, who also guest starred in The Mentalist as Walter Mashburn), to get an injunction granted. The judge believes that Harvey slept with his wife Lauren (guest star Nazanin Boniadi) and takes his anger out on Harvey. It is revealed later in the episode that Harvey did not sleep with Judge Pearl's wife because Harvey said that he doesn't sleep with married women. I applaud Harvey for being a gentleman and sending Lauren home in a cab, and though I am miffed at the judge for his behavior, I understand that he doesn't know the truth about what happened.
The scene with Louis and Mike at the tennis club made me cringe at two things: one, that Mike knows nothing about tennis, nor does he know how to play it, and two, that Louis would walk around the locker room of the club without a towel around his waist. No one needs to see you in your birthday suit, Louis! The ending scene with Mike telling Louis to stick it after finding out that the drug test that the latter made him take was fake and that Tom Keller wanted Mike and Harvey to represent him earned a slow clap in appreciation from me. You tell him, Mike!
Some chuckle-worthy parts of the episode were the scene where Donna used sarcasm to mock Mike for handing in his files late to Harvey, and the part where Mike came into work high as a kite and was standing outside the elevator, pressing the floor button over and over, with the people inside the elevator wondering what was going on. I love a show where the element of humor is used in such a flawless fashion.
The episode ended on a good note, too, as Harvey's client Wyatt got what he deserved, thanks to Mike's brilliant idea (though what that idea was I will never know). Also, Judge Pearl was left speechless when Harvey told him the truth about what happened between him and Lauren, and Mike helped bring in Tom Keller as a client, got praised by Jessica, and found a friend in Rachel.
One last thing before I end this review: I kind of agree with Harvey that you should go with the 146 other options to get yourself out of a bad situation (e.g. when someone has a gun pointed at your head), but from all the crime dramas that I have watched over the years, whenever there is a hostage situation, the hostage(s) would often do what is being asked of them due to fear of being killed and, therefore, would not be able to calm down enough to think of something that will not get them shot. Okay, that's all I want to say. On to Episode 3!
[Photo via USA Network]
Tell us what's wrong with this post? How could we improve it? :)
Let us improve this post!