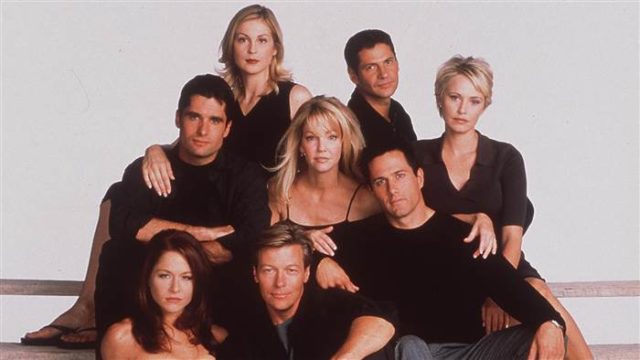 It has been 25 years since "Melrose Place" first aired on television. This show, which featured a generation of young professionals, living in the infamous Melrose complex and dealing with "real life" situations made it into the hearts and living rooms of people throughout the nation. As big of a hit as "Melrose Place" was, many people wonder — will there ever be a reboot?
While two of the show's stars, Josie Bissett and Jack Wagner reunited for the Hallmark Channel film "Wedding March" in 2016 and the sequel to it in 2017, there are no plans in the works (right now) for any reboot — although both of these stars are all for a revival of the '90s soap.
However, if you are one of the inquiring minds, you may wonder, what would a reboot look like? Who would be included? Also, if you aren't from the generation when "Melrose Place" was a huge hit, you may wonder why it ended to begin with.
The Reasons Behind the End of "Melrose Place"
The show came to an end after seven hot seasons. In May of 1999 millions of viewers tuned into the final episode for a chance to say goodbye to some of their favorite characters. Ever since that last show went off the air, many have been waiting — rather impatiently — for a reunion.
Would a Reunion be Disappointing to the Original Fans?
The show originally aired between the years of 1992 and 1999. It is now thought of one of the most influential television shows on pop culture. While there have not been any original episodes shot since the last one in 1999, it is still a regular fixture on many stations, allowing new generations to fall in love with the drama and stories.
Is a "Melrose Place" Movie Possible?
The most likely answer to this question is, "no." Two former stars of the show, Kristin Davis and Alyssa Milano stated they can't really imagine doing a movie and then it being horrible or "missing the mark" and being a disappointment for all the fans. Even Heather Locklear chimed in with similar sentiments on the topic of a movie.
What about a Reboot with New Characters?
Most of the original case of "Melrose Place," agree that creating a new show, with new characters just wouldn't be the same. Granted a CW version aired in 2009 but we'd like to forget that ever happened. Original cast members would want to reunite the original stars if this was an endeavor that was going to be sought.
While there have been rumors abound online about a possible reboot, there is nothing in the works as of yet. While all the stars seem to be on board, there hasn't really been much network interest in bringing the "gang" back together to start shooting again. Right now, it is really just a game of watch and see what happens. No one really knows if a director, producer or network big-wig will get the bug and bring the original "Melrose Place" back to life again in 2018 or beyond.
Tell us what's wrong with this post? How could we improve it? :)
Let us improve this post!