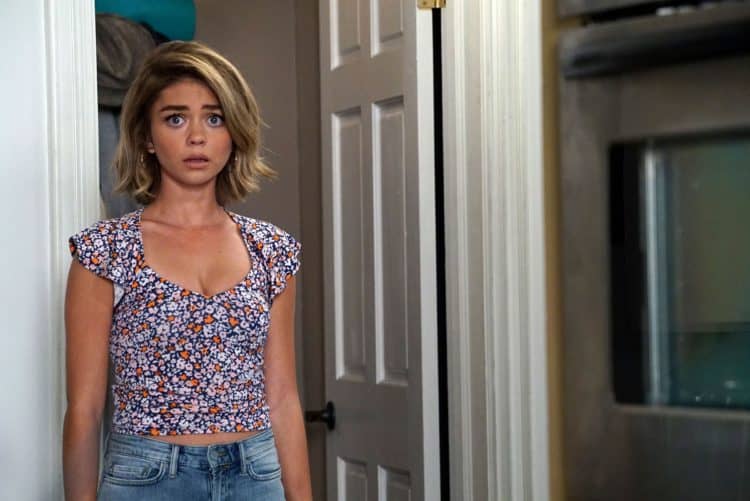 Hailey (Sarah Hyland) was not the smartest of the Dunphys. When she wasn't mistaking a study desk for a makeup table, she was getting herself arrested and confessing all of her wrongdoing to a disciplinary panel. To sum it up, the eldest of the Dunphy children was a hot mess. Her character was meant to go downhill, even when she seemed to have started to get her life together. Although she was notorious for being the not-so-brilliant child, Hailey had moments when she got things done in a way that only she could. She was smart in her own little way, and here are some moments that show that:
1. The Time She Gave Alex A Graduation Pep Talk
Hailey was not always one to save the day. In fact, she was the complete opposite, bound to not get things done or ruin them altogether. Compared to Alex ( Ariel Winter), who was always put together, she was a hot mess. Things took a different turn when Alex was about to graduate. Her family bumped into her on the road, worn out from the discovery that her entire life was a lie, thanks to a bizarre mathematical theory. " If mathematics doesn't matter then no one can be certain of anything and I've just wasted the last four…no, sixteen years of my life and there's no point in me graduating," a disheveled Alex told her family. Alex's parents tried to talk her into attending her graduation ceremony, but she wasn't buying it. One by one, each member of the family worked their charm, to no avail. It took the genius of Hailey to finally convince Alex. " Your whole life, you've always known exactly what you're supposed to do; study, get good grades, repeat. Now that's over and it's scary." Hailey told her. Luke (Nolan Gould) and Hailey both convinced Alex that if the two of them could handle the real world, so could she.
2. The Time She Went For An Interview At Gavin Sinclair
Working wasn't Hailey's strongest suit. If she was going to do something, it had to be a job she was extremely passionate about. Fashion was Hailey's thing. We saw it time and again when she mocked Alex for her poor sense of style. An opportunity to work with Gavin Sinclair (Michael Urie) was therefore a step in the right direction. When Hailey got to Sinclair's front desk, the receptionist let her know that Sinclair was in a bad mood and wouldn't have an interview. Without question, Hailey retreated back to her car and had a complete meltdown. In a moment of sudden realization, she went back to the reception and demanded to see Sinclair. " I'm not leaving this office until I meet with Gavin Sinclair." She said. Sinclair happened to walk into the room, only for Hailey to follow him around, arguing her case. According to her, she had the edge he was looking for, and proved it by pointing out five things that were wrong with the receptionist's outfit.
3. The Time Lily Received $100 From The Tooth Fairy
As a child, Lily (Aubrey Anderson) was not one to be fooled with. Cam (Eric Stonestreet) and Mitchell ( Jesse Tyler Ferguson) learned this lesson the hard way when Lily lost her first tooth. Lily had all the time in the world and was anticipating a visit from the tooth fairy. When the tooth fairy came, she accidentally left Lily, a hundred dollars instead of the usual dollar. Cam and Mitch tried their best to get Lily to give back the money, but the tough-headed Lily wasn't giving in. The pair went as far as faking a letter from the tooth fairy. In it, she wrote that she had made a mistake, and had given her too much money. When the approach failed to work, Hailey came to the rescue. She dressed as the tooth fairy, but a smarter Lily recognized her. Finally, Hailey once again saved the day by letting Lily know that she'd be on Santa's 'naughty list'. " Who needs presents every year?" she asked. It turned out that Lily needed Santa to come around more than she needed $100.
4. The Time She Met Dr. Arvin's Parents
When it came to choosing boyfriends, Hailey did not veer far away from her own self. Nine times out of ten, she'd go for the pretty ones who didn't have so much going on upstairs. Meeting Arvin ( Chris Geere) was purely coincidental. He was nothing like anyone Hailey had been with before. Dr. Arvin, as he was known, had nothing in common with Hailey. The pair met in Alex's class when Hailey sneaked in before her interview at NERP. Dr. Arvin would later describe his attraction to Hailey to be a result of forces that couldn't be explained or denied. When the time came to meet Arvin's parents, he was all smiles, until he learned that his mother would be around. He went on to present Hailey as someone who worked in tech, eventually leading to her storming out." You made me feel bad about myself and I deserve better than that," she told Arvin and went on to break up with him.
5. The Time She Learned How To Use The Complicated TV Remote
Even though Claire (Julie Bowen) was the supermom who got everything done on record time, she did not quite figure out how to use the television remote control. According to Phil, Claire struggled with technology in general. Claire, on the other hand, had the thought that he installed complicated gadgets so he could talk to her like a child. In a bid to show her how easy it was to decode the new home theatre system, Phil ( Ty Burrell) decided to teach their least smart child how to go about it. That way, he would get an apology from Claire for getting frustrated and breaking the world's 'worst remote'. Phil was off to a difficult start with Hailey. In order to get her to learn how to use the remote in twenty minutes, he asked Hailey to pretend that the mall was closing. She finally did it, for the sake of all the times Claire thought she was right, even though she was in the wrong.
Tell us what's wrong with this post? How could we improve it? :)
Let us improve this post!