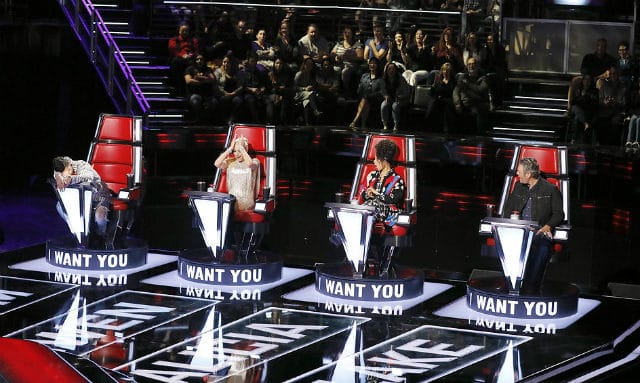 Because President Donald Trump held his first joint session of Congress on Tuesday, we've got an episode of The Voice season 12 on a Thursday. I'm sure this is upsetting a lot of people's viewing schedules – not to mention DVR's. Like, is there space in your Thursday 8pm time slot to even DVR this?
Well, The Voice decided to give everyone a darn good reason to watch, or at least DVR, The Voice Season 12 on a Thursday. This has to be the be the best sneak peek ever!
[youtube https://www.youtube.com/watch?v=wsQtZYLPB0k]
That. Was. Hilarious! Adam Levine choosing to sit out the fight for country artist Casi Joy is the funniest bit I've seen on The Voice, ever! More importantly, who Casi picks now actually has some real suspense.
Sure, the obvious choice is coach Blake Shelton. Strategically though, if you've watched the show, you know Blake is always overstocked with country singers after the blind auditions. It might be better to pick up some pop/rock tips from coaches or Gwen Stefani and hope for a steal later. (And, yes, if she picks coach Alicia Keys that will be a shock!)
At first using Casi Joy's audition as a sneak peek seemed like giving away way too much. By the end of it, you can see it was a smart choice. Casi definitely sounds like the real deal for the modern country music scene. The only question is if she's going to pick the right coach to get her enough exposure for a record deal – and will that choice once again end up breaking Adam's heart.
The Voice airs Thursday (tonight!) at 8pm ET on NBC. Don't miss it!
Tell us what's wrong with this post? How could we improve it? :)
Let us improve this post!