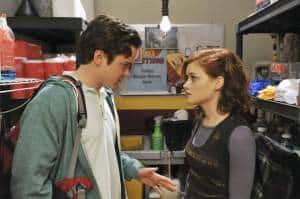 Considering the rise of darker humor in recent years on TV comedies, Suburgatory's deliberate, over-the-top silliness stands out that much more. From day one, minute one, snarky comment one, the show has embraced its identity as a zany satire with an ooey gooey center, to the point where I almost hate to chide it out of respect for how self-assured it can be. Make no mistake about it, Suburgatory has multiple areas that it can improve on, but it's embrace of how colorful and frenetic it can be is one of its major assets when utilized properly.
"Out in the Burbs" gets it almost right, pitting Tessa and George in separate plots about miscommunication and the dangers of assuming things about people. The theme explored is pretty interesting and almost a way for the show to knock Tessa's indignation at living in the suburbs down a peg, as the plot here shows her that maybe you don't know everything and not to write the greater Chatswin area off at once. For being such a big, boisterous episode of an already big show, "Out in the Burbs" retains a nice emotional core to it, wearing its suburban support like Dallas wearing yet another leopard-print ensemble. That's the type of balance that has alluded Suburgatory in some episodes and the type of balance that could bring it to the next level; to help establish this world that Tessa and George inhabit, there has to be some kernel of humanity in every episode. It doesn't have to have a Full House-esque "feel good" moment at the end of each installment, but if you want your show to be able to go super silly like "Out in the Burbs" did, you have to make the overall theme of the episode somewhat important, otherwise it veers close to Cartoon Land.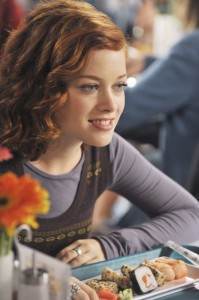 And boy did "Out in the Burbs" go for it, but as much as I liked what it tried to show the main duo, their respective plots felt very sitcom-y. Yes, I know that Suburgatory is, well, a sitcom on broadcast TV, but it has too much intelligence to be putting out plots based on wacky misunderstandings. That's not to say that either Tessa's curiosity over the "closeted" new boy Josh (Dan Byrd) or George's nervousness over being around Dallas didn't have their good points. I liked seeing Lisa get all hot and bothered over the new guy, volunteering her love of Queen Latifah and "boy-ing up" in order to try and "turn" Josh straight, plus the extra interaction with Mr. Wolfe brought about a personal revelation that could have funny implications for at least the immediate future. George and Dallas, on the other hand, actually had to confront what happened at the Christmas party and the moment where you realize that it meant more to George (and that it scared him) brought a little poignancy to an episode that featured a gay butcher and jokes about melons.
Despite all of that good material (and energy), I just didn't connect to either plot that much. I do enjoy how parallel they ran, which was the catalyst for George to talk to Dallas, but it may have been a touch too much in terms of flimsy storylines that could have been solved by talking to another human being.
We did get to see basically every member of the supporting cast, though, which is another redeeming element to "Out in the Burbs" that offset its weaknesses. Granted, it was really only minor appearances by a majority of them, from Dalia's "welcome wagon" to the increasingly intimidating Sheila threatening George with coupons for half-price ground chuck, but seeing more characters regularly helps the show to breathe a little more. As much as I enjoy watching Tessa and George try to acclimate to their new environment, I like seeing the type of people that occupy Chatswin that they'll have to deal with, as well as how George and Tessa impact all the supporting characters. George has been a thorn in Sheila's side and brought Dallas back to life a little, while Tessa's given Lisa a friend and Dallas a pseudo-daughter, but there are so many other relationships and dynamics to explore that I'd like to see people like Ryan and Mr. Wolfe make more regular appearances.
Stacked with double entendres and a flurry of random pop culture references, "Out in the Burbs" may have been a little stiff in terms of plot, but there were enough good moments to make it a pretty worthwhile episode of Suburgatory. While I love and appreciate how weird and different the show can be, I hope that the powers that be never forget to keep things grounded and relatable, as the story of George and Tessa deals with issues of identity, fitting in, and friendship that go far beyond suburban satire and daddy-daughter drama. As long as that happens, I say bring on the crystal paperweight business and steroid busts.
Thoughts, Quotes, & Observations:
-"It's very exciting. It's like The Wire!"
-"Look at the way she eats that banana."
-"Josh was gay and it was, for lack of a better word, fabulous."
-"But his body…it's so muscular…"
-"Clay Aiken is not gay. He's just a tender soul."
-"Heidi, I love you. I love being heterosexual with you."
-"Laxatives are not illegal."
-"And if the cafeteria serves veal medallions, just say no. Seriously, you guys."
-Another fantastic message was buried in a throwaway line: the people that don't accept who you are aren't worth knowing.
-Still no Malik. Quick, someone get a search party going for the poor guy. Hurry!
-I don't know what Mr. Wolfe was bidding on, but Perfect Strangers doesn't have a box set release yet. (Seasons one and two are available for $17.28 at Amazon, though.)
-Tessa DVRs For the Love of Ray J. Perfect.
-More shirtless Jeremy Sisto. I see the producers of Suburgatory are getting my letters.
-Next week on Suburgatory: George goes on a trip to Atlantic City with a bunch of his guy friends, while Tessa and Scott try to find some time alone.