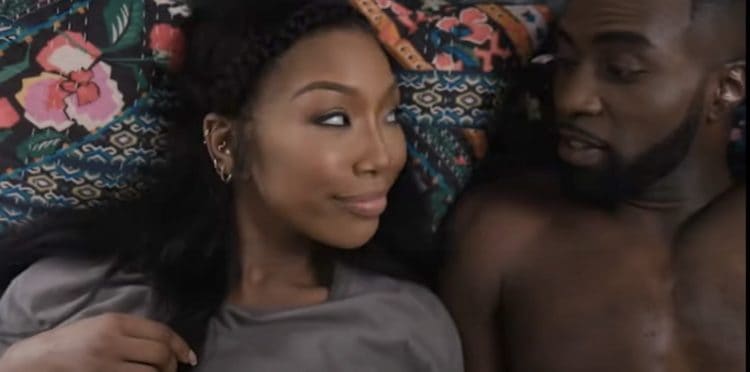 After another three week hiatus, ABC finally decided to bless us with the season finale of Queens. On Queens Season 1, Episode 11 we learned that Jojo had talent like her mother but Naomi were conflicted about allowing Jojo to leave school to pursue a music career. Valeria fought for an opportunity to explore her Puerto Rican heritage while Jill saved a troubled young actor from her controlling mother. Queens Season 1, Episode 12 for the most part is a happy episode as it's peaceful ending veers from the overused dramatic plots we've come to associate with finales. In the opening scene, Eric and Naomi are cuddled in bed. They have finally made their way back to each other but Naomi is still guarded because of how Eric her in the past. Eric is determined to show Naomi that he's a changed man and that he only wants her. Valeria's new single is number one on the Latin charts. For the first time in her life everything is going good. She has a loving supporting husband and she's about to go on her first solo tour. Things take a turn for the worse when she finds out during a routine physical she may have uterine cancer. Thomas tries to help Valeria keep positive until the test results come back.
Nasty Girl Records is excited about Valerie's upcoming tour and the success of her new music. They are banking on Valeria's tour to generate some revenue. Under normal circumstances, Valeria would be just as excited as the girls are about her success but knowing that she may have cancer is eating her alive and she decides to keep it a secret from her girls. Muffins is almost finished recording her album but Jill on the other hand hasn't been in the studio since the shooting. Darren's crazy outburst in court blaming her for everything that happened after he was found guilty for attempted murder reinforced the tremendous guilt that she has been feeling. Muffins and Jill's relationship has blossomed. While chilling at Naomi's house Jill asks Muffins if she will ever move in the past. Muffins has matured a lot and she reminds Jill that we never really get over the last we just learn how to deal with it better. Jill's is starting to feel hopeful until they run into Tina and her new girlfriend Chantelle. Jill is instantly overwhelmed with guilt and regret for how she treated Tina. She's also still in love with her.
Jill gets the chance to talk Tina privately and they discuss Darren's verdict and spiteful speech he made in court. But Tina doesn't is all out of sympathy for her ex-girlfriend. Tina tells Jill that she feels sorry for her and that she's going to end up all alone which is one of her top fears. Venting to Muffins again, Jill has the audacity to get upset that Tina didn't just accept her apology. But Muffins checks her and reminds her that Tina doesn't owe her not one thing. However, Muffins helps Jill see that she has to let all the shame go and move in with her life. Taking Muffins advice, Jill finally gets back in the studio and comes up with a smash song apologizing to Tina, telling her how much their relationship meant to her and wishing her the best. Tina hears the song and loves it. Meanwhile, Valeria gets some peaceful when the doctor tells her that she doesn't have cancer but she does have fibroids which will eventually require surgery and there's a chance that she may need to have hysterectomy. The doctors inform the couple if they want to have children now is the time.Valeria never really thought about having kids until she met Thomas. They decide to try and conceive naturally but this means that Valeria won't be going on tour anytime soon.
Valeria explains everything to Naomi. Even though Nasty Girl Records need the money from Valeria's tour Naomi is nothing but supportive. They both realize that there are more important things in life that they don't wanna miss out on. Eric comes up with an idea to rerelease the group's old debut album with a few new unreleased songs to generate some income for the label. First, he'll need his estranged ex-wife to sign off on it since she won the rights to the masters of their first album during their divorce. Robin Givens plays Eric's scorned wife. When Jojo calls his phone during their lunch meeting, he tells Robin that he found out six months ago they he had fathered a child with Naomi. Hurt and angry that Eric had a child outside their marriage Robin decides not to sign over the masters. When Naomi finds out about the issue with the master she's livid. Eric's bad decisions from the past are affecting all of them in the present day. She's also upset that Eric lied by omission about meeting with his ex-wife. Eric swears that it was all business but Naomi doesn't trust anything he says because of their past.
Robin asks to meet up with Naomi for answers and they have a candid woman to woman talk. Robin reveals that Eric always had this star-gazed look of awe when he would talk about Naomi and her talent. Robin knew about Valeria because they were often in the headlines together but her intuition always told her it was Naomi he was with. Robin eventually signs off and allows them to buy back the masters. After Robin told Naomi that Eric had always been in love with her she's feeling more confident about their relationship. Naomi let's down her guard and tells Eric that she's in love with him. Eric heaves a sigh of relief before he kissed her passionately. They agree to keep the past in the past and start over as an official couple. Yahhh! The episode ends at Queens album rerelease party where they are embraced bu their fans and chanted on by their loyal supporters. It was the perfect ending to a rollercoaster season.