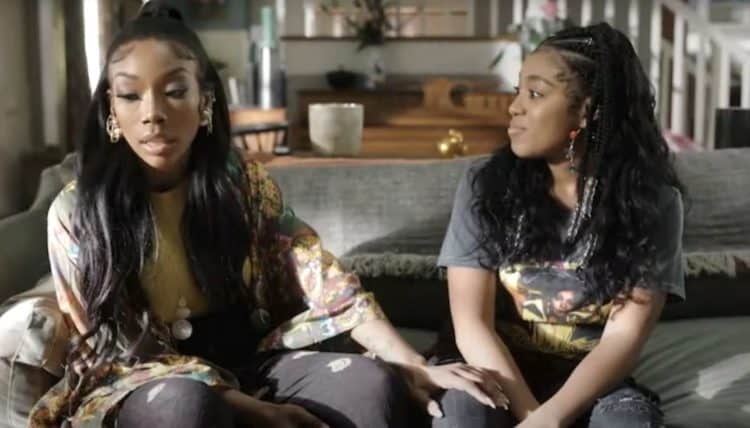 On Queens Season 1, Episode 10 Zadie and Naomi put their old rivalry to the side and embarked upon a new career venture with Nasty Girl Records. Jill confronts her past and stands up to her disapproving father once and for all. Zadie and other victims finally get the justice they deserve. Queens Season 1, Episode 11 begins with Jill bailing Madison Pierce out of jail. Madison Pierce is a big celebrity and the star of the show "Annacadabra". Jill has plans to sign her to Nasty Girl Records she is the perfect, big-time act they need to push their record label to the top. The show cuts to three days earlier, where Naomi is trying to get Valeria to release her album earlier than she had originally planned. Valeria has an opportunity to work with Renonsance a popular Latin music artist looking to expand his audience in the American market. If Valeria can impress his fans her album will be a certified hit. Valeria views this as the perfect opportunity to reconnect with her Latin roots by choosing to rap in Spanish. However, she's in for a big surprise when Renonsance makes it clear that she has to rap in English or forfeit the opportunity as he views her as a gringa. Valeria decides to not do the song.
Meanwhile, Jill has been working as an actress on the set of Anacadbra to pay her bills. While on set, she watches Madison Pierce's mom force her to take Adderall and it reminds her of her relationship with her father. Jill gets a chance to talk to Madison away from her mother and finds out that Madison wants to write her own music and explore other career options but her mother has her in a conservatorship. Sidebar: If Madison's storyline sounds familiar, it's because it's a play-off of the Britney Spears situation which has been in the headlines all year. Naomi and Eric find out that Jojo hasn't been to school in months. When they confront her, Jojo reveals that she wants to be a rapper. Naomi doesn't want Jojo to throw away her education, but Eric thinks it's a good thing that she's thinking about expanding her horizons. Jojo reminds her mom that she is an adult and that she can do what she wants. Naomi confronts Valeria about her decision to not work with Resonance. The truth is that Nasty Girl Records needs the attention that working with him can provide. Valeria reminds Naomi that she has invested the most money into Nasty Girl Records and she wants the label to flourish as well. She also helps Naomi to see that she's trying to control her like she's doing to Jojo and that she wants everyone to live up to her expectations and not their own path.
Jojo pops up on Eric at the studio and expresses her passion for hip-hop. She asks him for just one chance to show him her talent. Eric reluctantly lets Jojo in the booth and she absolutely kills it! It turns out the apple doesn't fall to far from the tree. Nasty Girl Records is searching for another talent to sign. Jill shows the ladies Madison's talent on Anacadabra but they think she's too corny for their label. Valeria gets a news alert that Madison has been arrested again, this time for shoplifting. Jill goes to bail her out. Madison is upset that Jill bailed her out of jail. She wanted to get caught so that she could get a few minutes of peace away from her mother. Madison's mother watches her every move like a hawk. Jill promises to find a way for her to get out of her conservatorship with her mother so that she can be financially independent and make her own career choices. At the house, Jojo thanks Eric for giving her a chance to record at the studio. Eric makes her promise to go back to school until he talks to Naomi tomorrow. But Jojo backs out of their deal and posts the song they recorded to Soundcloud.
Jill gets Valeria and Naomi to agree to let Madison perform for them so they can get a feel for her music. Madison smashes her performance and the girls are on board to sign her to their label. Therefore, Jill agrees to pay the legal fees out of pocket to remove her mother as her conservator. Madison's mother shows up to take her daughter back and threatens to have Jill arrested. Jill tells her mother that Madison is the one with the money and not her. Madison's mother fires Jill from the Anacadabra show. Valeria agrees to do the song with Renosance and rap her part in English as well as release her album so that the label can start generating profits. Jill supports Madison during a private court hearing to free her out of the conservator arrangement with her mom. During the hearing, Madison's mother tells the judge that Madison tried to kill herself with a gun a few years ago. Madison argues that it was because she was tired of being under her mom's control. After this admission, the judge denies Madison's request to end the conservator.
Jill tries to get through to Madison's mother one time. She tells her that if she doesn't stop trying to control her daughter life she's going to end up losing her for good. Her mom agrees to release her from the conservatorship! Valeria agrees to do the song in English for Renosance, but when she gets in the booth, she busts out in Spanish impressing Renosance. However, it's not what Renosance wants and he officially drops her from the record. Madison meets the ladies at the house and reveals that she has decided to go with a big record label that's offering her millions of dollars. She thanks Jill for helping her, promises to pay her back and turns down the Nasty Girl record deal. Jojo's record goes viral on SoundCloud and Valeria shows it to Naomi. When Naomi finds out it's Jojo, she is impressed to say the least, but she's afraid that she won't be able to handle the nature of the business. Fortunately, they are able to come to an agreement. If Jojo stays in school, she will support her in pursuing a rap career.
Tell us what's wrong with this post? How could we improve it? :)
Let us improve this post!