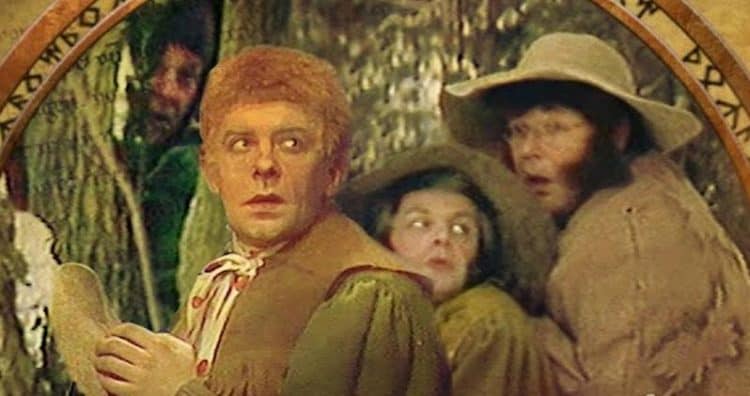 This is a reminder that one version of something isn't necessarily the ONLY version that exists since the Russian version of The Lord of the Rings was created back in the 90s and as anyone can see it wasn't exactly a big-budget movie, even for TV, and as a result it kind of fell by the wayside after it was released. When people go digging for various things related to the shows and movies that they enjoy however it's bound to happen that they might find hidden items such as this, and while some might call them hidden gems, others might stick with oddities since back in the 90s this could have been something that might have developed into something bigger, but as time went on and it was buried beneath the years it's kind of obvious that it wasn't much of a going concern, especially after 2001 when Peter Jackson's adaptation of Tolkien's works finally came out, promising more adventures to come with a much bigger budget that allowed for the type of effects that blew the minds of the audience in a way that this version couldn't keep up with. But the funny thing about that is the fact that simplicity is sometimes seen as desirable considering that it reminds people of how things used to be before technology advanced and things moved beyond what practical effects could accomplish.
If anyone remembers the animated version of The Hobbit and The Lord of the Rings, that's more proof that at one time people were doing their best to push Tolkien's idea only to come up a bit short simply because the imagery wasn't as up to snuff as it could have been to really push the story. But the thing is that a lot of people tend to do what they can and will tell the story from their own point of view as it makes more sense within the society they're attempting to serve. Various cultures are going to interpret different things in different ways, that's been established for a long time now considering that many cultures have different explanations for many things in this world. But LOTR is one of those stories that many people feel has had only one set direction with a few differences between each telling, which this version dispels since it looks far different than many people expected. But in that vein, its differences define it and make the production something that stands on its own despite the similarities between the other representations of Tolkien's story that have been created over the years.
There are many different ways to tell a story to be honest, and every culture and society will no doubt find their own way to make the story work and to display it in a way that people within that culture will understand. As far as the budget that's needed to make the movie appear more impressive to the viewers, well, that's a matter of funding and doing what you can with what you have. This effort wasn't all that great but it's likely something that a lot of people are going to admit was something at least and is bound to entertain a lot of hardcore fans are that are down to talk about almost anything that has to do with LOTR. It's interesting to see how many people would actually look at this presentation and want to go into the many details that are similar and different from Peter Jackson's attempt since it does speak highly of those that are willing to give this version a chance and goes to show that there are a lot of people out there that try to make an attempt to do something great even if it doesn't always pan out the way they wanted. To be fair, this version did manage to reach TV and watched by enough people to stick around for so long, but now it's a wonder as to whether or not it's going to be given any further prominence or if it will fade back into obscurity once again after enough people have their fill of it. That's one of the many downfalls of low-budget material, it does tend to get overshadowed quickly and forgotten after a while.
The Lord of the Rings is such a big part of pop culture that it wouldn't be much of a surprise if other hidden gems are bound to found throughout the years, but this one, in particular, is kind of fun since it includes a few characters that the initial story showcased, but was left out in Peter Jackson's version for one reason or another. It's definitely something that fans might need to take a look at simply because it's interesting enough to look at in detail. But one way or another it does feel that it will be forgotten again unless someone is willing to find a way to keep it around.