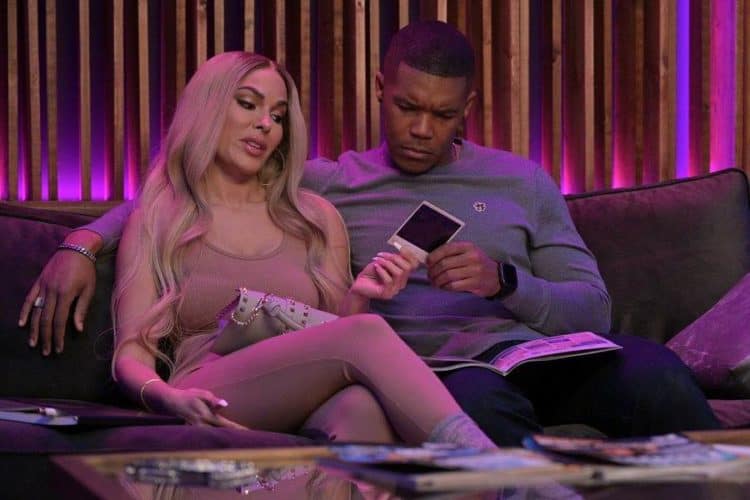 On the shocking mid-season premiere, we discovered that Brianna is dead or at least that's what the girls think. Naomi reconnected with an old rival and the two joined forces on a hot song. Eric and the crew started Nasty Girl Records, signing Lady Z as their first act. Queens Season 1, Episode 10 starts with a big radio spot. Queens, Lady Z, and Lauren announced that Nasty Girl Records would be having a major opening show, which would be Lady Z's big comeback to music. During the live radio show, Frank Black the producer that assaulted and blackmailed Lady Z shows up. Lady Z freezes up when she sees him in the audience. Back at the house, Naomi brings up the possibility of Zadie pressing charges against the perverted producer. After all, he should pay for what he's done. For Zadie, pressing charges is out of the question because Frank is way too powerful. Lauren insensitively victim shames Zadie, telling her that she shouldn't have put herself in the position to be assaulted.
Meanwhile, Valeria is concerned about her relationship. She fears that their marriage won't last because they practically jumped into the relationship skipping over the "get to know you" phase. They take a quiz in a magazine to learn a little bit more about each other. When Thomas asks Valeria about her most prized possession she shows him a picture of her biological mother holding her as a baby. At church, Jill is enjoying the sermon on forgiveness as she realizes that there are some things that she needs to forgive herself about. When she approaches the pastor after the service, he slaps her across the face. It turns out the pastor is Jill's father and he wants her to apologize for being an embarrassment. Jill defends herself against her father's claims that her new lifestyle is what caused her ex-husband to go crazy. Jill changes the topic to her mother's funeral. Her father apologizes for slapping her at the church but, refuses to talk about her mother's death.
Naomi and Eric run into Frank Black and his new artist. Frank promises that his new artist will be the next Flo Mill (a popular upcoming artist). Much to Naomi's dismay, Eric keeps it cool with Frank. Frank mentions that he'll be at the Nasty Girl Records Staples Center showcase. Naomi meets up with another one of Frank's old artists who goes by the name Hood Honey. Hood Honey brings along her young son. Hood Honey reveals that she was sexually assaulted by Frank after he brought her into the industry. When she confronted him at a party about her pregnancy he pretended not to know her and throw a thousand dollars at her to get an abortion and disappeared from her life. Hood Honey had her baby and left the music scene. Naomi convinces Zadie to come forward after telling her Hood Honey's story. Zadie agrees to sit down and do an interview with a journalist that Naomi vouches for. However, the journalist spins Zadie's story and claims that she may be making false accusations against the powerful music producer to revive her career. Zadie is furious at Naomi and Lauren tells them that she should have left the past in the past. Zadie quits Nasty Girl Records.
Jill goes to visit her father while he's still in town at his hotel and finds him passed out drunk on the floor. Drunkenly, he admits to blaming God for her death and asks Jill if she was happy as a child. They have a bonding moment and for the first time in years, he tells Jill that he's proud of her. In the morning when her father sobers up, Jill recommends that he visit a clinic to get help with his drinking. He slaps Jill again and calls her rebellious. Finally, Jill stands up for herself and tells her father that he uses religion to justify the hatred in his heart. She promises to have him arrested if he ever puts his hands on her again. Jill realizes that she doesn't need her father in her life and storms off. Valeria is still struggling with her insecurities about not feeling like she's good enough to be loved. At the studio, she confides in Eric. Confused and hurt, she tries to kiss Eric but he pulls back and envelopes her in a friendly hug instead. It looks like Eric is changing. Thomas walks in white they are kissing and Eric leaves the room. Valeria opens up to her husband about her insecurities and even admits that she tried to kiss Eric. Thomas isn't going to give up on Valeria that easily and insists that he's in love with her.
If you're wondering why Muffins has been so insensitive about Zadie's situation with Frank Black it's because she was also assaulted by the producer at the beginning of her career. Lauren finally comes clean to Zadie about the rape and plays a voicemail that Frank left on her phone years ago admitting to his inappropriate behavior. After the attack, Lauren turned to drugs and alcohol to cope. Zadie wants to do the show at the Staples Center again and she performs a song that she wrote dedicated to survivors of sexual assault. She also bravely tells her story at the show. Frank Black gets arrested on multiple accounts of rape and assault thanks to both Zadie's and Lauren's testimony.
Tell us what's wrong with this post? How could we improve it? :)
Let us improve this post!