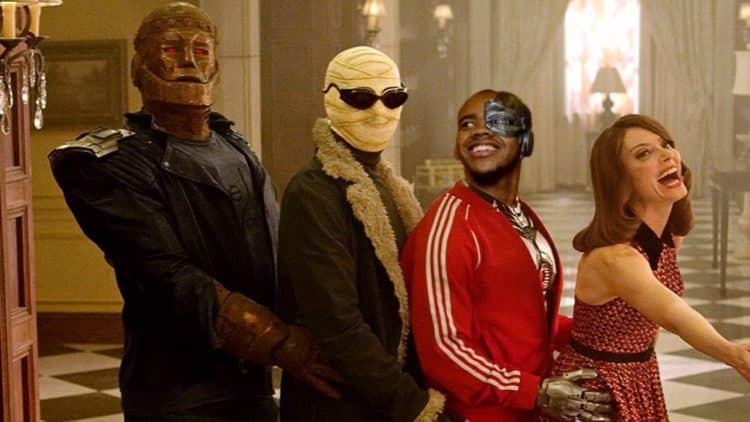 Right now it doesn't sound as though there's a lot that can be said about Doom Patrol season 3 other than the fact that it is coming and that the hope is that fans will be able to see it arrive by late 2021. If there are any COVID stoppages though that could make the release push into 2022 as one might expect. At this point, though there are likely a lot of questions still to be answered since the second season did get cut short, leaving fans wondering just what was going to happen to their favorite characters. As of right now, it would appear that season 3 is going to at least try to fill in the gaps that were left and should hopefully be ready to pick up where the last season left off in order to keep some sense of continuity so that people aren't entirely lost. The show has been more than a little popular since it debuted, and yet a lot of folks didn't even know if season 3 was going to happen thanks to the fact that season 2 ended early. COVID has certainly hit the entertainment industry in a big way, but it hasn't managed to shut everything down yet, as some shows might be packing it in due to statewide mandates, but Doom Patrol is planning on filming sooner rather than later in order to get the next season out.
The stunt team was pictured getting ready to go to work so one can imagine that the show is eager to get up and running at this time, no matter that the pandemic is still very much in effect and other shows are already shutting down. This is kind of amusing since with the advent of a vaccine, which people are still debating about, and the nearly phobic way people have been told to remain safe, one would think that getting back to work might be possible. But the safety of the cast and crew comes first since no one wants to contract the virus that has affected so many and, as some would say, has taken so many lives in the past year. Thus far it sounds as though everyone on the cast and crew has been keeping safe and there have been no serious drawbacks other than the early ending of season 2. But with season 3 it's bound to be plenty interesting since the holes in the story that people are wanting to learn more about should be plugged up and the group should be able to move on and find a new adventure or continue one or two that will open another arc or two that will continue to entertain the fans.
As for the story, a lot of stuff is being kept close to the vest at the moment, or at least as close as anything ver is when it comes to one show or another. People are going to likely want to recap the last season before this next season arrives, and they've got plenty of time to do so. The main cast members will be coming back and it's fair to say that there might be at least a couple of new faces that will show up to keep the story moving along. Like so many TV shows this program needs to be kept continually fresh and just upbeat enough that it's not utterly depressing. It is one of the more oddball shows that DC has brought out in the recent past so it's not really in danger of going away due to a lack of popularity, but with the COVID issues still in effect, it's going to be impressive if this show makes it to release by the end of the year. The need to be cautious is still high and those that are trying to keep the entertainment industry going are typically doing everything they can in order to bring people the kind of entertainment they want to see. Those that were thinking that 2021 might serve as a reset button are no doubt finding that things aren't going back to 'normal' as quickly as they might have liked, and many people are still trying to recover from 2020 as they continue to move forward.
So far it does sound as though the team will still be reeling from the betrayal of the Chief and will be trying to push past their own issues while doing their best to protect Dorothy Spinner, who has powers the like of which none of them are entirely aware of and could possibly end the world if she was left to fend for herself. Where the show is going to go next is anyone's guess, but it already sounds as though it might have a solid direction to follow and will hopefully be coming out by the time 2021 is wrapping up.
Tell us what's wrong with this post? How could we improve it? :)
Let us improve this post!