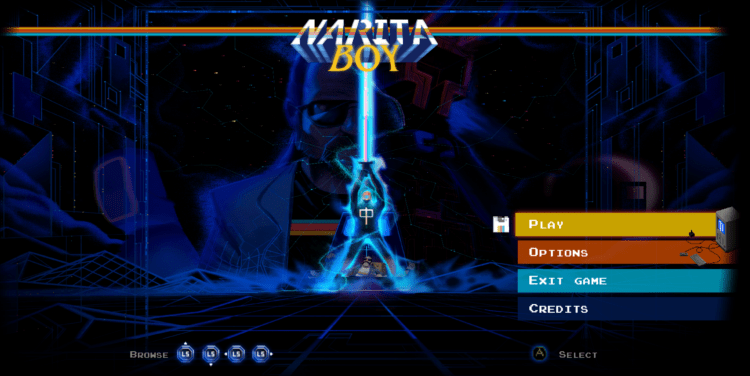 We all have come to know and love the world of Tron, but unfortunately it seemed as though the days of games like Tron were over…until Narita Boy came along! Narita Boy is developed by Studio Koba and published by Team17, and allows you to fight and explore in a retro-futuristic world. "Swim deep into a oneiric, poetic and unique experience across dimensional planes." Narita Boy seems to capture the same sort of tone that Ernest Cline captured in Ready Player One (and the newly-released sequel, Ready Player Two!), but how exactly does it do just that? What is Narita Boy? Who is Studio Koba? Find out more about what it means to truly travel back in time and rediscover the nostalgia of 80s culture in Narita Boy! I received a key for the game on PressEngine, and thought I would share my thoughts on the game, so let's dive into it!
Who is Studio Koba?
Studio Koba is an indie game dev studio and has been an active company since 2016. "Studio Koba's mission is to create unique and bizarre experiences for the player with astonishing visuals, incredible stories, amazing gameplay and original soundtracks." The studio is currently comprised of Eduardo Fornieles, the founder and CEO of Studio Koba, as well as a visual artist, game designer, storyteller, level designer, and animator. The team also consists of Salvador Fornieles (Music composer, sound design, and management), David Flores (Chief Programmer and game designer), Daniel Tomás (Programmer), Adrián Popof (Programmer), Juan Díez (Animator), and Chie Wakabayashi (PR & Marketing).
Story
Narita Boy is a fabulous homage to the 80s and 80s culture, and it tells the story of The Creator (Lionel Pearl Nakamura). "The Creator, a genius of his time, creates a video game console called Narita One with its flagship title being a game called Narita Boy. Narita Boy becomes a tremendous hit! Copies of cartridges are flying off physical shelves worldwide. Within weeks Narita Boy is the best-selling video game of all time, critically acclaimed for its homage to 80s culture and exceptionally kickin' soundtrack. Meanwhile, inside the binaural code the digital realm connects with reality. Him has returned and deleted The Creator's memories. Supervisor program, Motherboard, and her agents have activated the Narita Boy protocol. The Stallions are coming, and the Digital Kingdom need a hero." The story of The Creator is actually quite heartbreaking, as you learn of his abusive father, while at the same time seeing how bright a light his mother was in that vast darkness. The story of Narita Boy, to me, is about hope. There's a ton of technology easter eggs "hidden" throughout the game, such as the enemy Stallions being what I assume to be Trojan viruses, and referring to the Greek Trojan horse.
Gameplay
Narita Boy's gameplay is definitely one of a kind, especially due to the Technosword, the game's legendary weapon. "A tightly tuned combat system that is challenging, intense and rewarding. Master the Technosword, practice and release all her potential. Use her powerups and learn new movements to learn new combat strategies." The gameplay blends both side-scroller-esque style combat with unique puzzles in order to create its own gameplay experience, and I had a blast playing the game.
Visuals and Soundtrack
The visuals of Narita Boy have to be some of the most visually pleasing graphics I've seen in a long time, the 80s synth aesthetic with the brilliant and vibrant colors of the Trichroma are absolutely breathtaking. There's just something I love about the CRT filter option, and it's a nice memory trip back to the days of Tron, while also giving it the game its own style.
Rest in Force
The biggest "issue" I have with Narita Boy so far is the death animation. Every single time you die by an enemy, you'll get a black screen with a fairly loud narrator yelling "rest in force!" This was cool the first couple of times I died, but after a short while it just gets annoying and this has become the sole reason I hate dying in Narita Boy; not because I died and feel like I'm lacking skill, but because I can't possibly stand to hear "rest in force" one more time.
Overall, I genuinely enjoy playing Narita Boy, and for Studio Koba's first and currently only game, I would say it's a massive success. I hope to see many more games like Narita Boy from Studio Koba in the future, and maybe even a sequel at some point? Then again, not everything needs a sequel, so maybe I'd just like to see another great game from Studio Koba! I would definitely recommend checking out Narita Boy if you're a fan of the 80s and need a taste of nostalgia. Narita Boy is currently available for PlayStation 4, Nintendo Switch, Xbox One, Xbox Series X|S, and PC