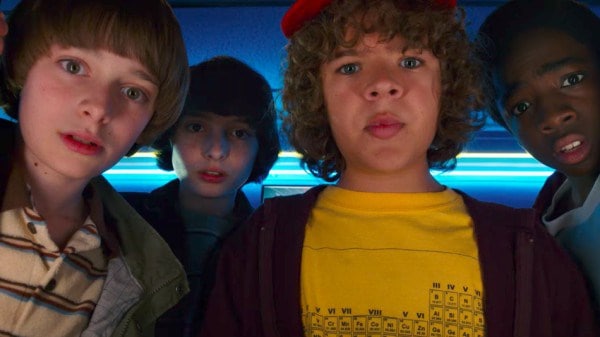 This is the letter:
My walkie talkie is busted so I had to write this note instead. I heard you launched a Stranger Things pop-up bar at your Logan Square location. Look, I don't want you to think I'm a total wastoid, and I love how much you guys love the show. (Just wait until you see Season 2!) But unless I'm living in the Upside Down, I don't think we did a deal with you for this pop-up. You're obviously creative types, so I'm sure you can appreciate that it's important to us to have a say in how our fans encounter the worlds we build.
We're not going to go full Dr. Brenner on you, but we ask that you please (1) not extend the pop-up beyond its 6 week run ending in September, and (2) reach out to us for permission if you plan to do something like this again. Let me know as soon as possible that you agree to these requests.
We love our fans more than anything, but you should know that the demogorgon is not always as forgiving. So please don't make us call your mom.
It's kind of important to get the necessary permission before copying the likeness and identity of a hit show in your bar it seems. For the Stranger Things-themed bar in Chicago, IL the party is going to be over come October 1st. The issue is quite simple: they didn't get permission from Netflix to adorn their bar with all the different images from season 1 and are therefore going to be required to take it all down once their six-week run is over.
The letter that Netflix sent seems kind of brutal despite being laced with a good deal of whimsy. The fact that the bar took it upon themselves to open up without any kind of permission or even an attempt to ask Netflix if it was okay is a bit presumptuous really but the idea was a lot of fun. At this point it seems that Netflix, despite being in the right, is being just a little petty.
It doesn't seem to matter though since come the first of October the bar planned to shut down anyway, meaning that Netflix finding out about it now doesn't really matter. What does matter is that anytime an establishment, individual, group, or anyone that happens to like a trademarked and copyright-protected story wants to take the time to "borrow" the idea, they really need to ask permission. Netflix and their like aren't so unreachable that they can't be contacted to gain permission for something that might actually appeal to the fans, and likely as not they'd at least give it some consideration.
The downside though is that a lot of companies like Netflix, and possibly Netflix itself, might say no without so much as an explanation and the always detested form letter telling people how glad they are that they enjoy the show. That's how you know that you're really being blown off, a corporate letter saying how appreciative they are and how much your patronage means to them. That's almost worse than a slap in the face.
At the very least with the letter above Netflix is attempting to soothe the sting of the blow they just dealt the bar, even though the bar was closing down soon anyway. Chances are that if they did approve and gave the go ahead for the bar to continue then they would want a piece of the profits, and not just a piddling little bit that the bar would be comfortable with giving up. In many ways Netflix would already own the bar and its many trappings, so the fee for using them would no doubt be quite hefty.
Let this be a lesson to everyone that gets the idea of using trademarked material for a public purpose, it's wiser to get permission first so that you don't need to worry over being sued later on.
Save