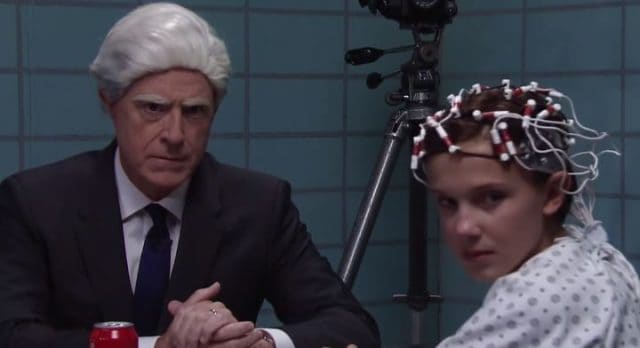 Stranger Things star Millie Bobby Brown stopped by The Late Show With Stephen Colbert last night to talk about the popularity of the Netflix series and what it's been like for her, as a 12-year-old actress, to experience all the fame and attention. However, Brown and Colbert didn't just discuss Stranger Things; they also acted out a fake scene from the show, with Brown playing her character, Eleven, and Colbert taking on the role of her twisted, evil father.
In the very funny sketch that the two of them did together, Colbert forces Brown's Eleven to help him microwave a burrito before she does something even more impressive (and hilarious) with his Coke can. And the best part is that during the whole two-minute segment, Brown never breaks character as Eleven; it's as if we're watching an odd, over-the-top deleted scene from Stranger Things. Check out the sketch below:
But as good as Stephen Colbert and Millie Bobby Brown are in the video above, it's the interview between the two of them that's really the best. Brown is her charming self (if you've seen her on other late night talk shows, like The Tonight Show, you know what I mean), and she and Colbert have a lot of fun talking about things from the '80s that she didn't know about before doing Stranger Things, such as record players and Dungeons and Dragons.
Plus, it's up to Brown to decide whether or not Colbert can join her "squad," so she tests him with questions like "What does 'bae' mean?" and "What does it mean when someone 'RTs' something?" See if Colbert is able to give the right answers in the video below:
[Photo via YouTube]