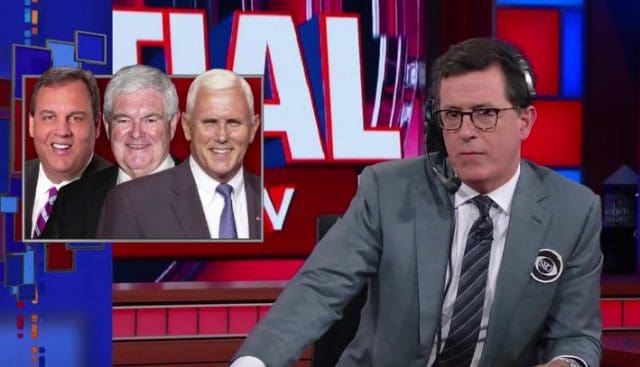 Donald Trump is expected to officially announce his running mate this Friday, and with his and Hillary Clinton's VP picks looming, Stephen Colbert decided to preview each candidate's options last night on The Late Show during a segment he called "The Late Show Vice-Presidential Draft." Just like commentators during a real sports draft, Colbert discussed and debated whom Trump and Clinton will choose as their vice presidential candidates with none other than himself, pretending to be two different analysts, Steve and Stephen.
In the video below, Colbert first takes a look at the field for Trump. Many believe that the Republican presidential candidate has whittled his selections down to three possible options: Chris Christie, Newt Gingrich, and Mike Pence.
"Great field," Colbert says regarding Trump's VP shortlist. "Who knows? If Trump picks running mates the way he picks actual mates, he could go with all three."
Each candidate has a lot to offer Trump. As Colbert explains, after the George Washington Bridge incident, we know that Christie really knows how to "shut down the lane," and Gingrich brings along three of his own wives, meaning that he and Trump together could be part of a "double-triple."
Meanwhile, Colbert only centered on two possible picks for Hillary Clinton, with one of them being the dark horse candidate Elizabeth Warren. There's a couple of reasons why Colbert doesn't count her out, though; not only is she a fan favorite, but she and Clinton also have matching pantsuit uniforms. A more likely option for Clinton, though, is Senator Tim Kaine, who doesn't have the most inspiring campaign slogan, calling himself "boring" during an interview on Meet the Press.
"That statement reminds me of Vice President Alben W. Barkley's famous declaration, 'Who am I again?'" Colbert jokes.
Watch Stephen Colbert fully break down the vice presidential field for both the Republicans and Democrats in the video below:
[Photo via YouTube]