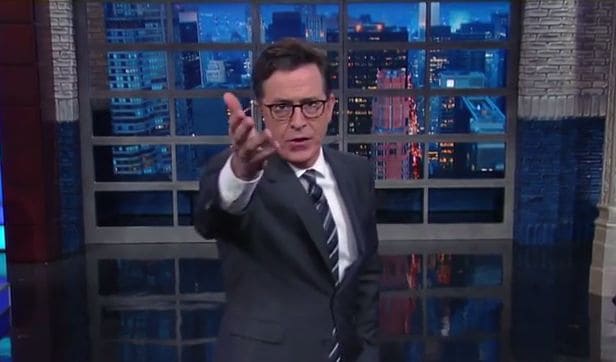 Stephen Colbert is excellent at knowing when to poke fun at something but like his compatriot Jon Stewart, he also knows when to dial it back and get serious about an issue. Colbert took time to address the police shootings in Charlotte it was both a moment to laugh but also a moment to reflect. However, despite reflection, Colbert kept it light. The shooting of African Americans by police officers and the resulting community outrage seems to keep happening over and over again, and no matter how many times, we do nothing.
Colbert began by stating that North Carolina is in a state of emergency and that these shootings are too repetitive. Colbert goes on to mention that during these times it's hard to know what to say, but that's it very easy to know what NOT to say. That is, unless you're a member of the media. He, like many people, wishes there was a way to protest in peace (though that's highly unrealistic).
Colbert then goes on to mention Colin Kaepernick, a highly debated issue that's been going on for weeks now. Caepernick is now considered to be the most hated player in the league. And of course Colbert goes on to talk about Donald Trump and uses a perfect dig at the candidate's small hands again when talking about frisking.
Here's the whole segment