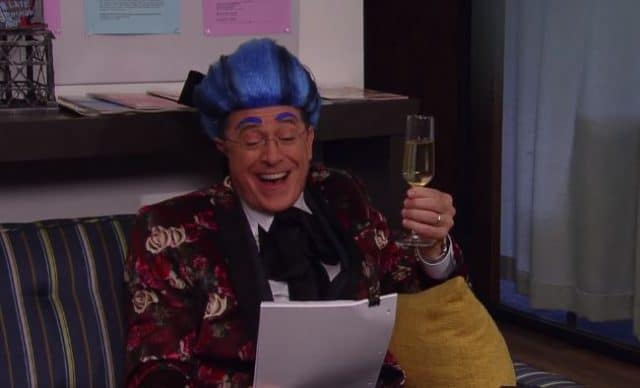 During the opening moments of last night's Late Show, Stephen Colbert was getting prepared for another Hungry for Power Games. After a long primary battle, with Donald Trump and Hillary Clinton being their parties' presumptive victors, it looked like the end was near, that there would only be two candidates left in the Games. However, as everyone knows, that's not the case, as Bernie Sanders still remains in the fight, even though he has virtually no chance of winning.
"Well, this fall was a long time coming," Colbert said during the opening, as he did his best Caesar Flickerman. "But last night, tribute Bernie Sanders finally dropped out of the race. He felt the–"
Before Colbert could finish his joke, one of his staff members showed up and whispered in his ear, letting him know the news about Sanders.
"Are you f***ing kidding me?" Colbert said.
But Colbert wasn't done cracking jokes about Sanders. Later on, during his monologue, he compared the Democratic candidate to both Gargamel and an eccentric contestant from America's Got Talent. Perhaps his most vicious dig, though, was this Weekend at Bernie's joke.
"So Bernie's not looking good, but he's still standing," Colbert said. "It reminds me of that movie. What's it called? It's about an older man who's dead but no one can tell because he's propped up by enthusiastic young people. It's Weekend at….I forget it doesn't matter what it's called."
Watch Stephen Colbert joke about both Bernie Sanders and Hillary Clinton in the video below:
[Photo via YouTube]