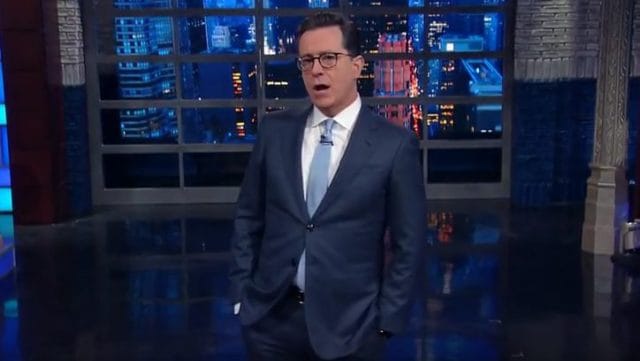 While the biggest story of the Trump administration had to be the fact that Donald Trump awkwardly refused to shake the hand of German Chancellor Angela Merkel, Trump managed to have more than one major gaffe. It seems his ability to deal with foreigners isn't quite honed in yet. For St. Patrick's Day Donald Trump invited Ireland's Prime Minister to the White House where he tended to get a little sentimental by saying "Always remember to forget the friends that proved untrue, but never forget to remember those that have stuck by you."
Before that sweet and adorable quote Trump reminded us that it was his favorite Irish proverb. Only one issue. That wasn't an Irish proverb. Also, it's a poem written by Nigerian poet Albashir Alhassan. Colbert joked, "I'm surprised Trump even allowed that poem into the country" and he followed up with a cute Irish jig of his own. As the country awaits Trump's next move, I sincerely hope it doesn't involve inviting any more foreign countries to the white house.
Check out the video below of Stephen wishing you all a Happy St. Patrick's Day with some of President Trump's favorite Irish proverbs.