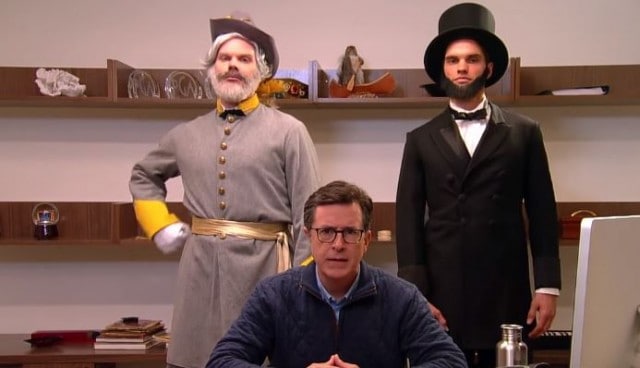 At the beginning of The Late Show last night, Stephen Colbert took some time to address the current controversy going on in North Carolina. After the state passed an anti-LGBT law, numerous artists and entertainers have protested the decision. Pearl Jam and Bruce Springsteen have cancelled concerts in the state, PayPal halted plans to open a new operations center in North Carolina, and even the porn site XHamster has blocked North Carolina users from its site.
"Now where are North Carolina hamsters going to go for their porn?" Colbert joked.
While Colbert respects these artists and companies and their decisions, he doesn't believe it's right of him, as an entertainer, to deny anyone in North Carolina his talents. Instead, he thinks that the "magic of television" can "bridge our differences."
As Colbert points out, even Abraham Lincoln and Robert E. Lee believed that the country could come together after the Civil War. Why can't we do that now? Colbert thinks that he's the person that can unite us all, no matter what our opinions are.
Check out Stephen Colbert's statement about North Carolina in the video below, and be sure to watch as Abraham Lincoln and Robert E. Lee become really close pals.
[Photo via YouTube]