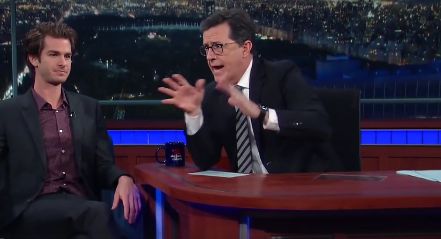 While we go through some Stephen Colbert withdrawal, there's no reason we can't bring up past bits that made us smile. P.S. have you gotten a look at the video he did with Billy Eichner? It's hysterical. Anyway, this is a bit that occurred pretty recently on The Late Show when Andrew Garfield, star of Hacksaw Ridge and upcoming film Silence was a guest. Colbert decided to play a little game with the English Actor.
Here are the rules: Andrew and Stephen each have a series of sentences and each one of them will read these sentences starting with an English accent and end said sentence with a Southern accent. For those of you who don't realize it, Garfield is English and he does an incredibly perfect American accent. Remember The Social Network? There's no way anyone realized that Garfield was English until he started doing interviews. Honestly I don't think people even knew he was English until recently. I mean the guy was Spiderman.
By the way, why is it that foreign actors always seem to be able to do a pretty solid American accent but American actors generally do foreign accents poorly? There are always exceptions but look at guys like Hugh Laurie, Idris Elba, Andrew Garfield, the list goes on. Granted guys like Tim Roth do terrible American accents. But what Americans are good at foreign accents? Maybe Leonardo DiCaprio? He was pretty decent in Blood Diamond when he played a South African diamond smuggler.
In any event, enjoy the games below: