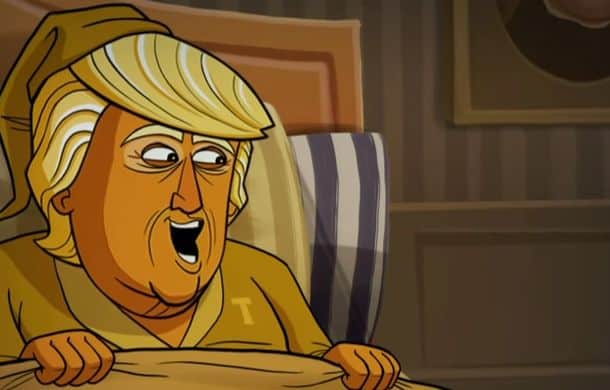 The Late Show was on fire last night. Stephen Colbert nailed his opening monologue. He was riffing on long ties, big lies and of course Sean Spicer. He begun to prepare us for Valentine's day and will we see Will Arnett and Stephen Colbert on the ticket for a Presidential run in 2020? Who knows? But if there's one memorable moment from last night's show it's most definitely an original cartoon that Colbert presented to the audience.
There's a new nightly ritual at The White House, and it might be the most disturbing thing we've seen yet from this administration. Turns out that each night before bed, Donald Trump has a special visitor come in and read him stories. That visitor is none other than Steve Bannon.
In an SNL styled format, we get a look at A. Trump in his bathrobe. B. Steve Bannon looking as creepy as ever. C. accurate dimensions on Trump's hands and D. Trump naturally crying at some of the things he's hearing. It's really quite brilliant.
Check out the video below: