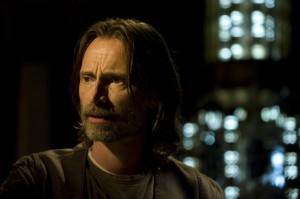 SGU gave us a double tap to the face with two revelations tonight. Bear with me while I bandage my face from the onslaught I just endured…
The Keys to Destiny's Command
Rush awakes from a nightmare of Lucian Alliance torture. He goes to the console room, where he berates Dr. Park before going on a 'walk.' Said walk leads him to a door, where he cautiously enters a code and the door opens to reveal…
The bridge of the ship.
As Rush marvels at his newfound discovery, he's accompanied by an apparition of his dead wife Gloria, who pretty much says what's on Rush's (and the audiences') mind.
"You're not going tell anyone… are you?"
Son of a…
Rush begins to speculate that the Destiny has some greater purpose than what he originally thought. Gloria entertains, and sometimes counters, Rush's thoughts, which drives the 'good' doctor mad. He also wonders that since he can can control the ship now, if he can stop it at any time and access planets that the ship would deem not worthy of their time. He does this and drops the Destiny out of FTL, leaving the other scientists perplexed since they don't have a clue Rush is behind the controls.
When he reaches the console room, Rush declares that he told the Destiny that they were low on food, which is why the ship stopped. They begin to ask why, how, and what, frustrating the doctor and clueing Col. Young in on that something is even more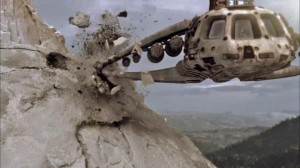 slightly off with Rush than usual. Rush 'explains' that while they can't see a gate signal from their consoles, it only means that the gate isn't working and that they must travel by shuttle. Young orders up a team to go on the mission, which includes Scott, Greer, Volker, Vanessa James, Riley, Eli, and TJ, who Col. Young is very reluctant to let go.
As Rush works on the bridge, he gets another visitor in Franklin, the scientist who disappeared when he sat in the Destiny's Chair Interface. Franklin reveals to Rush that in haste to play Jean-Luc Picard, Rush didn't check out the true schematics of the planet he just sent the crew to, which has volcanic activity and a wacky atmosphere. Rush contacts Scott immediately to tell them to brace for turbulence and that the shuttle should withstand the entry into the planet. As the shuttle enters, the shuttle crew experience predicted turbulence, but quickly loses power and, in one of the most intense sequences of the entire series, crash lands on the planet. WOW!
Stranded
Scott comes to first and everyone else follows suit, but Riley is pinned under a pile of rubble. He can't feel his legs at all. Oh, no…
Scott contacts Young and reports their current status. Young wonders why Rush didn't inform him of the turbulence, while a panicking Rush listens from the bridge.
Back on the planet while trying to rescue Riley from the rubble, TJ discovers that the rubble is actually keeping Riley alive, which she realizes as her hand is covered in a lot of Riley's blood after retracting it from the area of Riley's pinned legs. Outside, Eli, Vanessa James, Volker, and Greer search for the gate to see if they can fix it. They find it… buried in some more rubble. The situation is critical and everyone is looking pretty pitiful…
Back on the Destiny, Rush talks with Gloria about his latest dilemma, which is trying to figure out how to prolong the ship's time before jumping back into FTL. Gloria again sums up Rush's mind process, which is that he won't be able to explain jumping out of FTL later if there isn't a gate present without revealing how he did it. Rush knows that if he doesn't figure out something soon then the ship will be too far out of gate range from the planet the shuttle crew is stranded on. Gloria has a better idea: tell the truth and ask for help. Rush doesn't want to do that, because he doesn't think Col. Young is fit enough to lead the mission. Gloria counters by reminding him that it was really Rush's "negligence" that has the shuttle crew stranded in the first place. Can I say that Gloria rocks?
Scott tells the other about Riley's condition, while TJ gives Riley comfort inside the shuttle. They talk about religion and Riley's near death experiences since they have come to the Destiny. TJ reveals to Riley her encounter with Caine and the alien planet, adding it felt too real to her and makes things bearable. Unbeknownst to the both of them, Dr. Park is listening to the whole conversation.
The group outside blows up the rubble to speed up unearthing the Stargate, while the ships drop out of FTL to the bewilderment of the people aboard. Rush uses the pulsar radiation as a cover to his own manipulations, but Col. Young lets lit slide for now.
The shuttle crew unearths and upstands the gate in time for it to be dialed. The crew comes through and Scott tells Young that it's not looking good for Riley. Young ventures unto the planet to speak to Riley, who begs for his superior to leave him behind. He then asks Young to give him peace, since he is in a lot of pain. Oh hell, naw… Young does what Riley requests and smothers his fallen comrade until he is void of life. It takes a lot out of Young, but he keeps his actions from his crew.
What Should We Do With "Them?"
While all of Rush's craziness was being played out, Young and Camile had to deal with the remainder of the Lucian Alliance on the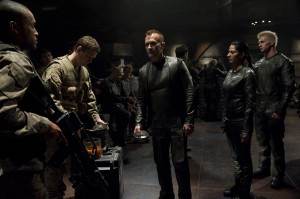 ship.
Camile talks with Ginn (Julie McNiven) about their reasoning for trying to capture the Destiny, which was to control the power of the Ancients, who legend says they can control time and space. So wait, the Ancients are actually Timelords? Ginn eventually reveals that she didn't even have a choice in joining the Lucian Alliance and pleads asylum for her and the harmless faction of the LA.
In the holding cell, Varro asks Telford (who is considered a traitor) what Young plans to do with them, but even Telford can't answer that question at the moment.
Camile informs Young of her findings and of the IOA's report of an attack from the Lucian Alliance imminent to hit Earth soon. She then suggests to keep some of the Lucian Alliance members and dump the others if need be, but Young is not trying to hear it. Next viable planet they find, the intergalactic pirates will make it their home. Camile is not comfortable with this, but other crew members share Young's sentiment.
After a second talk with IOA, Camile reports to Young that they want the LA to remain on the ship, but Young is not budging. At that moment, an uprising is happening in the holding cell. When Young and Camile reach the area, Young immediately takes down one LA member and proceeds to bash his skull on the floor. It takes Telford to snap Young out of his fit of rage. Later, Varro apologizes to Young for the mishap, but the Colonel gives the Lucian Alliance their walking papers and will drop them off on the next planet. It's a wrap, folks!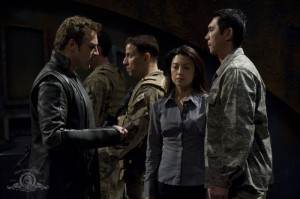 Young's stance is short lived, though, as Telford stops him with direct orders from Stargate Command to keep a select few from the Lucian Alliance sect or be relieved of duty, which Young mocks. Telford reminds Young that he is still under SGC and military rank and must follow orders accordingly. Later, Camile and Telford present Varro with the list. A decision must be made.
Conclusion
As the crew mourns the death of Riley, Rush talks with Gloria on the bridge about his role in the crewman's death. He reassures himself with the notion that he is only helping carry out the Ancients plan for the Destiny, which was named that for a reason. Gloria looks at her husband with disdain. Rush then spots something on long range sensors and drops the ship out of FTL. Volker and Brody notices, but before they can wonder why, they see something on the sensors as well. As Rush calls the two to the observation deck, Rush and Eli joins them. They reveal that there is an object in front of them and they are headed straight for it.
From Brody's Distillery (or From Inside The Airlock)
– There is a power struggle here with both Young and Rush gaining God complexes, which are not healthy for either faction of the crew. Now that Rush has found that bridge, all hell will break loose and I will be surprised if both of them come out of the inevitable dogfight that is bound to happen. I pray that they get their act together and fast.
– So Rush thinks the Destiny has a mission, but what could that mission be? How long was it supposed to have gone on and who were they supposed to report back to? A lot to think about there…
– Sgt. Hunter Riley has met his maker and God knows that he will be missed. He was pretty much the resident punching bag, but this time he couldn't withhold the the latest blow to the gut. The silent final voice over by Riley at the end of the episode was a nice touch. No music to hinder the effect, just Riley giving what were his last words. Very nice touch by the producers. And as a final treat tonight, I will leave you with Riley's final Kino confession that you heard/saw tonight, which was the last SGU: Kino episode produced last season called "Not Being There" –
R.I.P. Sgt. Riley. You will be greatly missed…