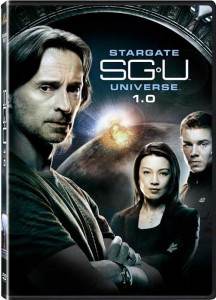 Okay, so we're a bit behind. Tuesday saw the release of the complete first season of Stargate Universe; while that set wasn't available for us to review, FOX graciously provided me with a copy of 1.0, the first-half set released on February 9. If you're like me and haven't started on this third series in the franchise yet, allow me to shed a little light on at least half of the situation.
The Show
Stargate has taken Star Trek's place as the mainstream science fiction franchise on television. First there was SG-1 for a decade, then five years of Atlantis, and now we have Universe. It's the "dark and brooding" member of the family, which either makes it cool or very uncool, depending on who you talk to.
The show centers around a multinational exploration team who find themselves stuck on an Ancient ship called the Destiny, which of course is out in the far-flung reaches of space, not unlike a ship called Voyager. It's fronted by Scottish actor Robert Carlyle, last seen as Jack Bauer's old friend in 24: Redemption. He's backed up by an interesting group of people, including Lewis Ferreira (whom I cannot take seriously as I either recall him as Michelle Dessler's weird brother on 24 or from his sitcom work back when he was going by the name Justin Louis), Ming-Na (ER) and Alaina Huffman (Smallville). There's not really anyone in the cast that you're going to go, "Wow, that's a huge name," but you could say that about any of the entries in the franchise – before Stargate, Richard Dean Anderson was still best known for MacGyver, after all.
The one thing that sets SGU apart from SG-1 and SGA is its tone. This is a considerably darker series than either of its predecessors, both of which were laced with a fair amount of humor. Stargate fans who have come to expect that have been turned off of SGU; others have embraced it. It's all a matter of personal preference. (I was amused by the one review I read in my research where someone apparently hated this series just because he also hated Battlestar Galactica.) I've sat through some pretty bleak shows that I enjoyed, so for me, it wasn't a big deal. However, newcomers to the show should be aware that this is vastly different from the two other series. I enjoyed it – I was just horribly frustrated that this release cuts off mid-season. You don't leave someone marooned on a planet and then not let me see what happens next!
The DVDs
Now we get to the heart of the matter. This is a half-season release. I abhor half-season releases, and here's why: not only are they double-dipping on the fans, but because they're being put out while a show is in production, they're not as well-rounded as a normal DVD set would be. (More on that in the special features section.)
There's no interior box art or booklet involved, and the discs are set up flipbook-style, with discs one and two on opposite sides of the holder and disc three in the back of the box. At least the episode titles are on the discs, though you're out of luck when it comes to special features, which are scattered over all three discs.
This set only contains the first ten episodes ("Air" through "Justice"), although it contains an extended version of "Air." Since I didn't watch the pilot when it aired, I have no way of knowing just how extended it actually is.
Video-wise, you get a 1:78:1 widescreen presentation, which looks pretty good for a DVD transfer. I didn't have any problem making out darker colors or space effects. Audio-wise, there's an English 5.1 Dolby Digital track and a Spanish Dolby Surround track; you get three sets of subtitles here – English SDH, Spanish and French. Makes sense for a multinational show to have support for multiple languages, doesn't it?
Like most sci-fi series, this one has a fair share of CGI effects, so I can only wonder if the transfer looks even better in he high definition of Blu-Ray. If you don't yet have that option, however, the DVD is still more than serviceable.
The Special Features
Okay, back to my minor rant. Since this is a half-season release, there's obviously less ability to produce special features, since the show is still going on. They haven't had the time to sit back and really think on what they could possibly include, and time with all involved parties is sparse. As a result, this release only has a few special features on it, but it's got more than some half-season sets (FlashForward, for example).
There's "Destiny SML," which is a series of chats with most of the main cast, and "Kino Video Diaries," including minor characters like Hunter Riley among the clips; five of these are exclusive to the DVD release. The former is scattered across discs two and three, the latter across all three discs. They're short, and for the most part what you'd expect from things like this. For the newbies, there's also Stargate 101, hosted by Michael Shanks, who reprises his role as the immortal Dr. Daniel Jackson. Alright, that's something, but it doesn't quite satisfy me yet.
The real coup of this set, however, is that there are commentaries on every episode. Every episode. These aren't just commentaries with the one producer they could borrow for a few days. For example, on the three final episodes of the collection ("Time," "Life" and "Justice"), you'll find EP Robert Cooper, director William Waring, and actors David Blue, Ming-Na, Louis Ferreira, Elyse Levesque, Brian J. Smith and Jamil Walker Smith all on at least one of the tracks. The one noticeable absence is Robert Carlyle, but the guy's Scottish so we'll give him a break. He probably had somewhere else to be. Still, the fact that almost everyone was assembled and they managed commentaries on every episode is to be commended, and almost makes up for the lack of other real special features on the set. These days, we're lucky if we get one commentary track, let alone ten.
The Bottom Line
Stargate Universe: 1.0 isn't a bad DVD release. Far from it. However, I can't recommend it simply because I detest the idea of half-season box sets (especially when, in this case, the complete first season is now available). It just makes me cringe to think that fans who bought 1.0 and 1.5 now have to look at a first-season release and think, "Really?!" Especially when the complete season set is only about $6.50 more on Amazon. Save your money and buy The Complete First Season instead.