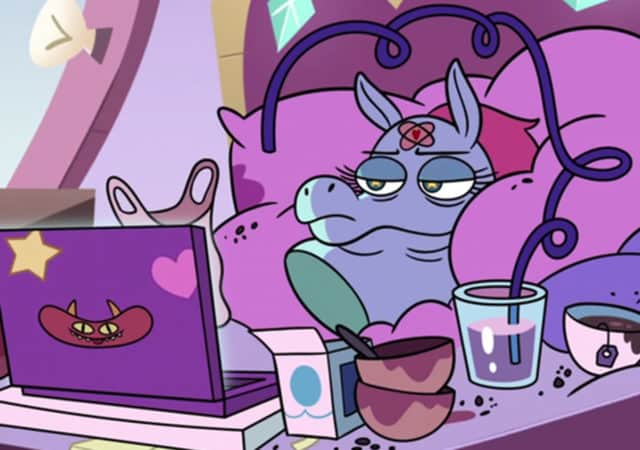 After the drama bomb that was last week's episode of Star Vs. the Forces of Evil, this weeks episode gave us a little break from the drama before throwing us back into the deep end.
The first episode, "Bam Ui Pati!," focused on Princess Ponyhead after the loss of her horn in the fight with Meteora. Depressed by the loss, Ponyhead has been spending all her time eating junkfood and watching a K-drama called "Bam Ui Pati!" When Star and Ponyhead's sister try to cheer her up, she runs off with her on-again-off-again boyfriend, Seahorse, who drives her away in his company van, since she cannot fly without her horn (or from her own depression). After running from her friends and her problems, Ponyhead finally realizes, with the help of her favorite K-drama, that she cannot run from her problems, so she emerges from her emotional journey as a new pony. The episode ends as Seahorse 3d-prints a new artificial horn for Ponyhead.
I'm gonna just say this outright, I don't like Ponyhead all that much. I think she provides a lot of great comic relief and Jenny Slate is great as her voice, but too much of the character becomes real annoying, real fast. And, it's not just her egotistical personality and center-of-attention mannerisms, which are annoying on their own, it's also the fact that she doesn't seem to learn from anything, ever, at all, and this episode was an example of that. The basic plot of "Bam Ui Pati!" was good, the chase sequence had some generally hilarious moments, and the lesson at the end was admirable, but most of it gets ruined by how selfish and oblivious Ponyhead is.
Ponyhead seemingly learns to face her problems instead of sulking, but that lesson is immediately cancelled out by the fact that she gets a shiny new horn, completely ridding her of all the problems she had in the first place. Even worse, she was in no way humbled by this experience and continues to chide her sisters for doing the things she herself does on a much worse scale. This kind of personality can be funny yes, but in the world of Star Vs. The Forces of Evil, where nearly every character is remarkably dynamic, it's tough to watch Ponyhead continue with her obnoxious ways.
There was nothing wrong with this episode in particular, but it could have been a bit better had Ponyhead actually changed for the better, matching the dynamic nature of the show. But, she continues to be her usual, terrible self, which is only entertaining in small doses, thus this episode focusing on her was difficult to enjoy.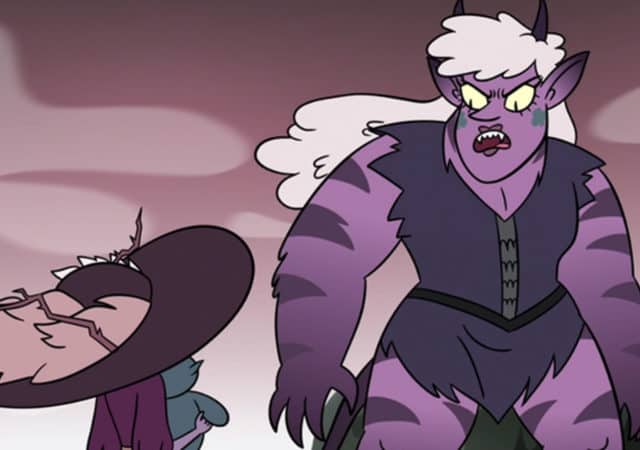 The second segment of this week's episode did a lot of make up for the first half, piling on the drama and action in "Tough Love," which was easily the best episode of the season thus far, and one of the best in the series.
Moon and Eclipsa are on the hunt for Meteora, who is wreaking havoc throughout Mewni on a rampage to take her rightful place on the Butterfly throne. Following growing monster tracks through the Pigeon Kingdom, a destroyed village, and the bog in the forest of certain death, they find Meteora, now a giant monster who devours the souls of others. Before attacking, Eclipsa attempts to connect with her long lost daughter, bringing her childhood doll and promises of whatever she wants as peace offerings. However, when Meteora wants the Butterfly throne and Eclipsa says no, a fight breaks out as Moon springs into action. But, Eclipsa stops her from dealing the final blow, leading Meteora to run away and Moon to flee the fight with a strange, magical injury.
There's a lot of great stuff to unpack in this episode, the fight was awesome, the drama was intense, and the larger story of the series was affected in heavy and permanent ways. And that, I'd say, is what made this episode so great, the consequences. Where the previous episode reversed and otherwise dispelled all consequences, "Tough Love" relished in them. Meteora's monster form is the literal manifestation of the Butterfly kingdom's misdeeds, Moon clearly came out with some sort of permanent magical injury, and Eclipsa may once again be an enemy of the kingdom.
We also see the effects of the past in little moments of the episode. Eclipsa is nervous to see her daughter once again, she is finally feeling the weight of what it was like to lose her daughter in the first place, and she is unaware of what their encounter will be like. Furthermore, Meteora's actions as headmistress of St. Olga's make it harder for her mother to connect and reason with her, something that is also the result of Mewni's treatment towards her. Everything has weight in this episode, something that the series as a whole excels at doing and was especially present here, more than making up for the earlier segment.
We'll see you next week with our review of the season finale of Star Vs. The Forces of Evil!
Star Vs. The Forces of Evil: Season 3, Episode 19
Summary
Princess Ponyhead deals with loss while Eclipsa and Moon try to locate Meteora in this week's Star Vs. The Forces of Evil