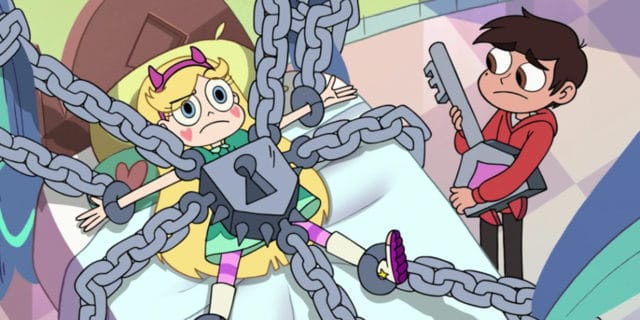 We're back with another whole week of new episodes of Star Vs. The Forces of Evil, so join us for our review of season three, episode ten of the Disney XD cartoon!
To start, we have "Sweet Dreams," which begins in, surprise, Star's dream. She is flying, joined by winged goblin dogs (Mewni equivalent of Hot Dogs) which she devours with glee. Suddenly, she wakes up, slobbering on her pillows. But that's not the strangest part. Her and Marco figure out she actually went to get goblin dogs in her sleep, and they're determined to figure out exactly how.
The next night, Marco agrees to watch Star sleep, not in a creepy way (though they promise not to tell Tom), she wants him to keep an eye on her so they can get to the bottom of this sleep mystery. But, as it always is with these kinds of plots, Marco of course falls asleep almost immediately after Star. Then, he is suddenly woken up by a bright light in the room, a portal has opened up in Star's bed and she comes through it in her mewman butterfly form, carrying the entire goblin dog truck. When Star snaps out of it, Marco tells her what happened, something is definitely up.
Later at the dinner table, Star asks her mother for advice, though it is disguised under a lot of "what ifs." She asks if the "magical butterfly" form occurs randomly, and her mother states that the form comes forth only during times of great need. To make things worse, her father states that if it were to occur randomly, Star would have to be locked up forever, the magical high commission would have to study and test her, and they would have to adopt a new daughter.
The king's bombastic exaggeration doesn't make things easier for Star, and she has no intention of telling her parents. In fact, that night, she still insists she and Marco figure out the problem on their own, but this time they're prepared. Star has chained herself to her bed and Marco locks her in, attaching a chain to his leg so he will be alerted by any movement, even if he's asleep.
Though, none of this seems to help, since Star's butterfly form breaks free from the binds and opens a portal to the void, dragging Marco with her. In the void, Star flies around aimlessly (passing by a lonley Ludo) as Marco tries to wake her up. He manages to snap star out of it and they rush back to the portal home. But, Star's wings start to disappear as she turns back into her normal self! The two are stranded in the void, but are luckily saved by a lifeline thrown through the portal.
Star and Marco make it back to her room, finding Eclipsa behind the lifeline. After some drama with Marco's reaction to "evil queen" Eclipsa, Star kicks Marco out of her room to deal with all this new weirdness. She ends up asking Eclipsa for advice, and her response is to see where the dreams lead her, "All knowledge is good knowledge" she says. Star decides to go with this route, settling the next night without Marco's help.
Yet again, we have an episode that sets up mysteries for future episodes to elaborate on. Who's to say when we'll get answers, but Star Vs. The Forces of evil is great at teasing us, at making us want more. There's something going in, not just with Star's magical powers, but also with Eclipsa. Star is discovering secrets and Eclipsa is keeping some, and this episode was a fun way to further display this.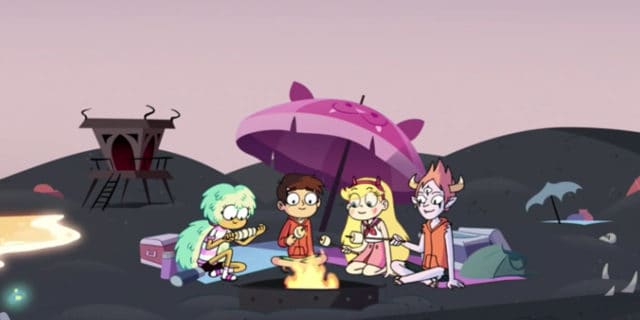 Next up, we have "Lava Lake Beach," which starts out with Star, Tom, Marco, and Kelly roasting marshmallows at the titular beach. They are awaiting the "soulrise" a spectacle that happens on Lava Lake, and they have the perfect sport. Further, Star and Tom's rekindled couple status is really starting to become present, something that effects Kelly, and maybe Marco?
When a couple of bullies claim the group's spot, a game of flaming-skull volleyball breaks out. In the middle of the game, Kelly walks off sadly, and Marco goes to find her. Turns out, Kelly and her boyfriend Tad (who we've seen before, living amongst her crazy hair) broke up, this time for good. Marco consoles her, mentioning his recent breakup with Jackie.
Kelly is ready to move on, but Tad is not, illustrated by the fact he is still living in Kelly's hair. Marco offers to talk to Tad, entering Kelly's hair to do so. The aquamarine mane seems to contain a pocket dimension and Marco finds Tad wallowing in misery and junk food. Tad is under the impression that, since he and Kelly break up and get back together all the time, he simply has to wait things out.
Marco tells Tad that Kelly is done with him for good, convincing Tad it's time to move on. He explains that Tad is only making himself miserable by hanging around in Kelly's hair. Tad surprisingly listens, stating that Marco is the "master of making himself miserable," something that Marco questions. Tad goes on to say that Marco is doing the same thing he is, hanging around his unavailable crush, Star.
Marco has a panic attack over this revelation, promptly running out of Kelly's hair and frantically running around the beach.
Unfortunately, everywhere he goes he sees happy couples, culminating in witnessing Star and Tom kissing. Marco runs off to be alone, looking miserable, like he is questioning his choice to stay on Mewni. Kelly approaches to thank him for getting Tad to move out, but finds it's time to return the favor after witnessing Marco's miserable expression. She takes Marco to a secret spot to watch the soulrise.
After some helpful words of wisdom, Marco thanks Kelly by wrapping his jacket around her, a sort of awkward gesture. But, Kelly pushes through the awkwardness, sharing the jacket with Marco as the two watch the soulrise together. As the (somewhat terrifying) spectacle unfolds, midnight passes, and Marco reveals its his birthday. Kelly wishes Marco a happy birthday and the episode ends.
This episode was fun, cute ,and wonderfully dramatic. At the beginning of this season, one might have thought fans would have their "Starco" pairing dreams fulfilled, but the show took a different, much more interesting turn. There's a lot of relatability in the relationship drama in "Lava Lake Beach," having trouble moving on, unrequited love, new feelings, and it's all presented in a fun package, teasing even more to come.
Stay tuned for our reviews of upcoming Star episodes!