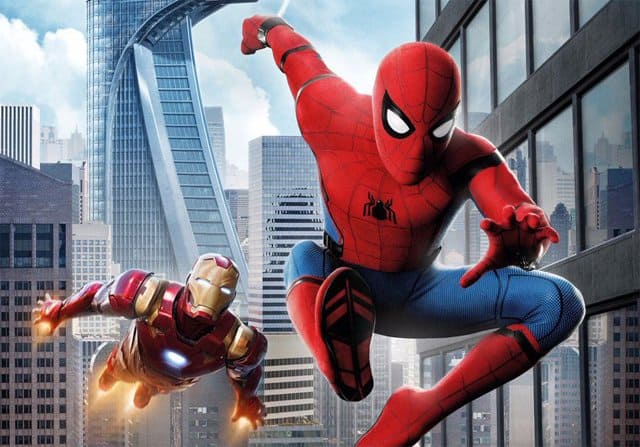 Leave it to Spiderman to pull something like this. When you think of Marvel crossovers you don't generally think of superheroes borrowing one another's suits. I'm fairly certain that most superheroes don't look at each other and say "Hey, can I try your suit when I'm fighting crime today?" That usually holds up until you get to Spiderman, who just HAD to try on Iron Man's armor. Keep in mind it's a gag but it's still hilarious.
Taking into account that Spiderman is a young man behind the mask you can kind of give him a little bit of a break for wanting to know what it's like to fly around in a suit of armor that can do virtually anything you ask it to. I mean really, Iron Man's been crushed by a fleet of falling cars thanks to the Scarlet Witch, he's been pummeled by the Hulk, he's stood toe to toe with Thor and Captain America, and in the end he might have been beaten a few times but inside the suit Tony was always still in one piece.
But let's get back to it. Peter Parker is a smart kid, a lot smarter than others really when you think about it. His fascination with the Iron Man suit is easy to understand and his desire to take it out for a spin isn't too off the wall. But when you really think about it, how DOES Iron Man relieve himself? And why would Parker, a smart and talented kid, not understand that a P tank is exactly what it sounds like? It's kind of a gross thing to think about but if you want to be practical Tony would need a way to relieve himself without damaging the suit. I mean come on, he did it in Iron Man 2 and there was absolutely no leakage. It's kind of gross to think about but still practical. I just don't want to know what kind of apparatus is involved in collection.
It's even more disturbing that the suit obviously has the means to eject the fluid. When flying over an open ocean or a wide stretch of land with no one around for miles it might be okay, but when flying over a populated area it seems like it would be more than a little gross. People might wonder why yellow rain is falling from the sky. Gag.
But firing it off at a bad guy seems fairly comical. In fact it seems like it might be just what the bad guy deserves depending on what they've done. Being drenched in pee seems to be a fate worse than a lot of things for a couple of reasons. One, you're drenched in urine, that's bad enough for anyone. Two, the shame of it and the fact that it seems to say that you're so unimportant that a superhero peed on you instead of beating you up.
Oh the shame.
Spiderman, it's probably a better idea to leave the big boy suits to the big boys.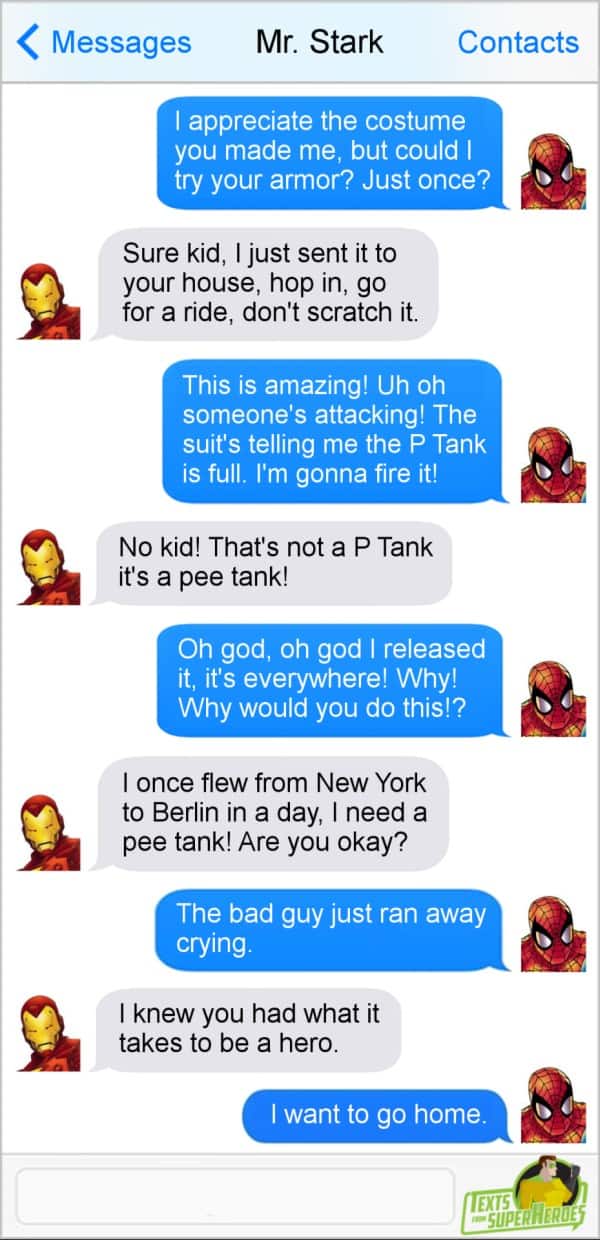 Save