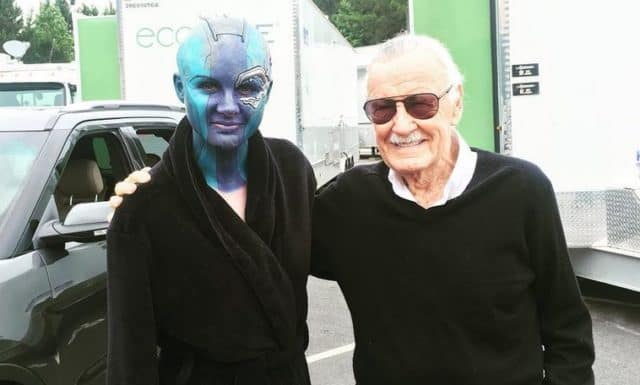 It wasn't too long ago that Marvel Comics legendary writer and creator Stan Lee had filmed scenes for cameos in at least four upcoming Marvel Studios films. This writer thought perhaps Mr. Lee was about to cash in for a well-earned retirement. How wrong I was! Variety reports Mr Lee has a new animated series, The Reflection, coming out on Japanese television with some top talent associated. Stan Lee is still going strong at 94-years-old.
Fans got to see some of Mr Lee's cameo work in the recent Guardians of the Galaxy sequel during the 'Watchers scenes.' This writer thought perhaps Marvel Studios was preparing for Mr. Lee's eventual retirement. Perhaps Kevin Feige and his directors had been preparing for Mr. Lee to eventually lay down his artist's pen and take off his sunglasses for the last time. Filming at least four cameos in a single event sounded to me like they wanted to take advantage of an opportunity that might not be around very long.
I watched the trades for news of Mr. Lee's retirement. But no such news came. Instead I found out this: "New animated superhero series "The Reflection," executive produced by Marvel Comics legend Stan Lee, is set to debut July 22 on Japanese public broadcaster NHK." Mr. Lee is also expected to appear at the upcoming San Diego International ComiCon. Convention organizers have scheduled a tribute panel for Mr Lee.
Mr Lee's new animated show The Reflection consists of 12 episodes set for broadcast late Saturday nights on Japanese network NHK. The series takes place following a global disaster called the Reflection which gave special powers to many people including Xon and I-Guy. Storylines will follow the fight between superhero Xon and villain I-Guy.
The Reflection has attracted top Japanese talent including director Hiroshi Nagahama, and voice actors Shinichair Miki and Satoshi Mikami. Director Nagahama's credits include animated TV series Mushishi and The Flowers of Evil and the film Detroit Metal City. Mr Miki, known for his voice acting in Japanese Pokemon animation will voice Xon. Mr. Mikami, who voices Sherlock Holmes in the Japanese-dubbed version of Elementary, plays I-Guy.
Wouldn't we all like to be like Stan Lee, into our tenth decade and still delighting audiences with our creativity, wit and humor?
Save