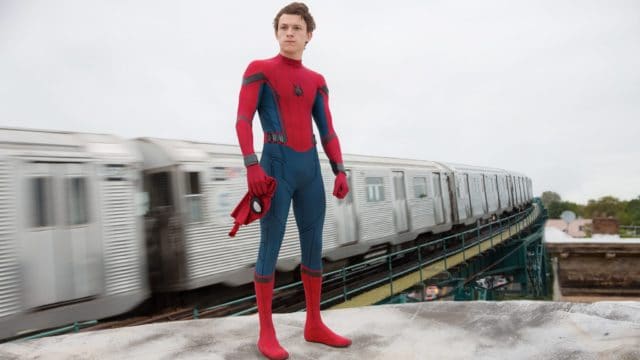 So where to start? Yes, the Spider-man: Homecoming film was actually pretty good but there were some snags here and there and it's about time to discuss them. After all comic book movies are usually up for criticism and discussion, one more than the other depending on who you're talking to, just by dint of being what they are. Spider-man falls under this close scrutiny more than other films however since the neighborhood webslinger has already had two other actors try to bring him to life and fail miserably. Granted, they were there when they were needed, but not a single Spider-man has nailed it one hundred percent as of yet, not even when you take into account the current comic book reboots and upgrades he's received here and there.
So what's there to talk about?
His spider suit.
In the first two versions Peter made his own suit. Toby Maguire developed natural spinnerets that allowed him to shoot webs, which seems really gross, and Andrew Garfield developed his own web shooters since hey, Peter Parker is a genius and all. But Tom Holland got a free pass since Tony Stark, another genius, up and gave him a state of the art suit that had all kinds of bells and whistles and was as far from the original spider suit's capabilities as an assault rifle is from a cap gun. Really, why would Spider-man need an 'kill mode'? The guy has had a pretty strict view on killing for a long, long time in the comics.
His attitude.
I don't recall Spider-man being this impulsive. I get that he's a teenager and impulse control isn't a big priority at that age, but even in the comics he seemed to think before he interjected himself into anything. So watching him go rushing after danger and bugging Tony Stark and taking selfies and other annoying teenager habits is a little off-putting, even if it's understandable.
Michael Keaton.
Oh don't get me wrong. I like Michael Keaton a lot, but he seems to have a strange affinity towards films where he gets to dress up as this supposedly menacing character that's supposed to be super-awesome and can lay the smack down on people without a second though. But there's one problem, the Vulture outfit looks cool and all, but during the fight scenes he looks a lot less imposing, even when he's flying through the air. In fact Michael Keaton looks a lot scarier when he's NOT wearing the suit.
The fight scenes.
They're kind of underwhelming to be perfectly honest. Spider-man has had some knockdown drag out fights over the years and he's given as good as he's taken a lot of times. The final fight between him and the Vulture however was hard to really get into since there wasn't much to it. A heist in midair, a fight that saw both of them finally crash and burn, and then bam, it's done and the Vulture is off to jail. Kind of anticlimactic wouldn't you say?
It was a decent film, but I'm hoping the next one introduces a more worthy villain.