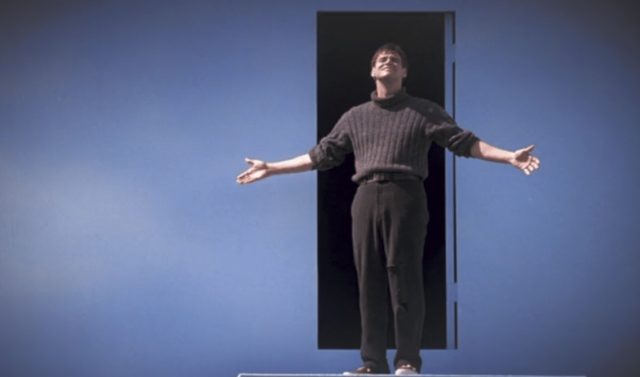 In the spirit of Spring cleaning it seems pertinent to mention some movies that, whether at the end or the start, were all about making a new beginning when it came to the lives of those involved in the film. Obviously not every person involved would benefit from this new start and not everyone would want it, but new beginnings are something that a lot of people enjoy since it offers them a shot at getting things right this time if they screwed up too much in the past. In a way it's like turning back the clock to try and make the best of a situation this time around.
A lot of people would love to have a fresh start in life.
5. The Truman Show
Sometimes they really are all staring at you. Truman was the only kid to ever be bought and paid for by a corporation and thus is the property of said corporation. How would that just rock your world upside down once you found out? To think that nothing you'd done had ever been real aside from the fact that it was you that was doing it. A person would have to make a critical decision once they found that their life was a big lie.
4. This Is Where I Leave You
While it's a new stage in life for the entire family Judd, played by Jason Bateman, is the only guy that really has a new beginning to think about after catching his wife in bed with his boss. It should be a pretty quick and easy divorce proceeding but when he finds out she's pregnant and it's his, Judd has to face the fact that life has just become increasingly complicated, which is something he doesn't do very well.
3. Bad Moms
It's so easy to be labeled a bad mom these days that three women finally decided to go out and become the bad moms that society thought they were to begin with. In the process however they came to find out just what it meant to be a mom and what it meant to be less than perfect and still be okay with it. Moms are people that take care of just about everything and yet are expected to be there whenever they're needed. But hey, they've got to live too.
2. Hot Tub Time Machine
The always popular idea of going back in time is something that a lot of people talk about but few would likely ever do if they had the chance. Well, some might, but hopefully the realization of what might happen would set in before they started trouncing all over the past without a care as to what happened to the future they'd left. One little thing changes and everything has to change along with it after all.
1. Groundhog Day
Anyone that was given this many chances to turn their life around would surely have a little fun with it like Phil did. But then of course he has to learn some hard truths about reliving the same day over and over, and the realization of what he has to do finally hits him.
Here's to a fresh start in the same life, may it continue to be something better each day.