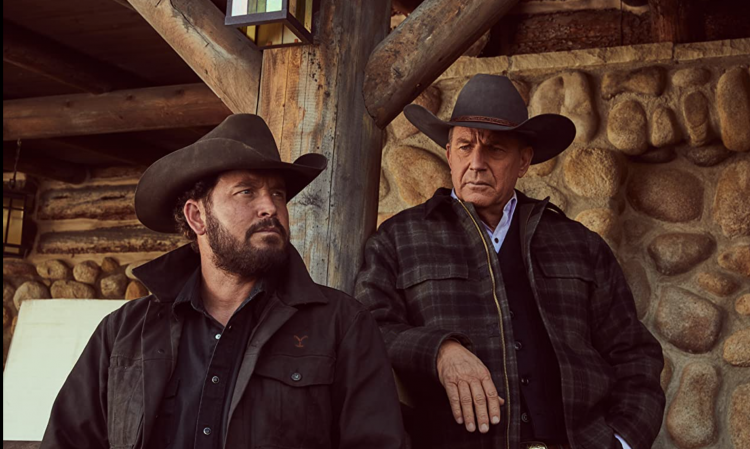 Credit: Cole Hauser (Left) and Kevin Costner (Right) in Yellowstone
Cole Hauser is no stranger to the Western world, playing Rip Wheeler, a tough-as-nails enforcer in Taylor Sheridan's award-winning series Yellowstone. With Yellowstone mid-way through its fifth season, fans are going to be left wanting more and more, and Hauser has heard their prayers. He will be heading back to Old West in Brian Skiba's Dead Man's Hand.
Yellowstone's Cole Hauser is heading back to the West for a new movie, Dead Man's Hand
Dead Man's Hand tells the story of Reno (Jack Kilmer), a newly married gunfighter who kills a bandit in self-defense. When the bandit's brother, Mayor Bishop, comes looking for revenge and kidnaps Reno's wife, Reno must team up with Marshall Roy McCutcheon to stop the psychotic outlaw. Stephen Dorff is set to play Mayor Bishop, and Vincent E. McDaniel, Delilah Andre, and Camille Collard will co-star.
Writer/director Brian Skiba based the script on the novel 'No Rest for the Wicked' by Matthew and Kevin Minor and recently released a statement about working on the movie:
"Dead Man's Hand is a western rooted in a tragic love story followed by retaliation and nonstop action. I couldn't be more appreciative to my producing team, the cast, the crew, and Milestone, who collaborated to bring this story to life. Kilmer, Dorff, and Hauser gave exceptional performances, while the scenic Great Plains of Santa Fe provided the perfect backdrop for this western."
Milestone Studios will be releasing the western, and co-founder Dawn Bursteen has sung high praises for Skiba and the crew:
"I was excited to get behind this incredibly gritty story depicting the struggles and spirit of the American West and work with director Brian Skiba, who had a clear vision for the project. I am grateful for the opportunity to work with such gifted individuals and am looking forward to collaborating with Brian again on the upcoming western, Gunslingers."
This marks the second time Hauser has worked with Milestone. Earlier this year, Hauser starred alongside Morgan Freeman and Jamie Alexander in The Minute You Wake Up Dead.
What's Coming in 2023
Yellowstone currently airs on Sunday evenings at 8 p.m. ET on Paramount Network. The last episode of the first half of the season will air on 1st January 2023, before a season break. The first 4 seasons are available for streaming on Peacock and Paramount Plus.
A release date for Dead Man's Hand is yet to be announced, but the project is currently in its post-production phase. So a release date can be expected in the coming months. Director Brian Skiba has already been commissioned for another western movie with Milestone called Gunslingers.
The Western Genre Lives On
The Western genre was popularized by the likes of John Ford and John Wayne with classics like The Iron Horse and True Grit. By the time the 60s arrived, Clint Eastwood had started to make a massive stomp on the scene too. Eastwood often played the stranger with no name who rides into town, kills the bad guys, and rides on out again. He has delivered some gems like The Outlaw Josey Wales, A Fistful of Dollars, The Good, the Bad and the Ugly, and the 1993 Best Picture winner at the Oscars, Unforgiven.
However, over the years, the Western genre has lost some traction, and many will argue we will never have a true Western star like Wayne or Eastwood again. While some notable pictures have graced our screens, like 2006's Seraphim Falls and Patrick Hughes' urban Western, Red Hill, it's fair to say the genre needs some serious revamping.
So, it's refreshing to see that filmmakers like Skiba are trying their best to keep the genre alive. Yellowstone and its prequel series from the same creator, 1883, are doing a fantastic job of bringing more interest to the dying genre. Taylor Sheridan is quite possibly the hardest-working writer in TV currently, with a number of shows under his belt. He doesn't seem to be slowing down, either. So who knows, maybe we will have a Western movie from Sheridan any time soon!
What's your favorite Western movie? We'd love to hear it!