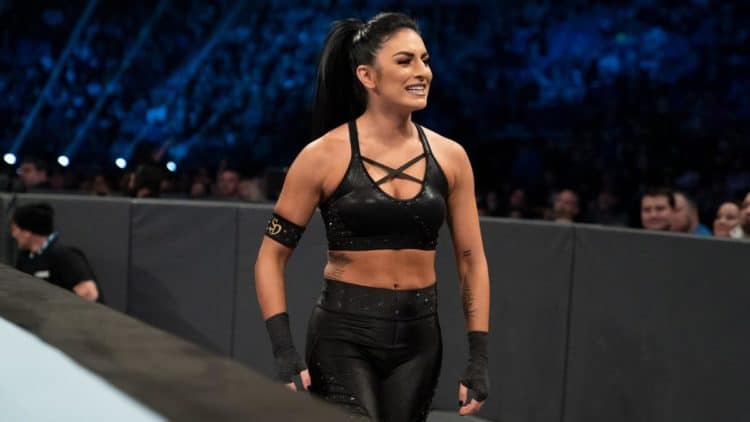 Sonya Deville first came to our attention in 2015 with her appearance on Tough Enough. Despite her shock exit from the competition in the third episode, she's since gone on to win fans as one of WWE's most popular figures, as well as for her staunch advocacy for the LGBTQ community. With her career on an ever-upward trajectory, there's rarely been a better time to find out more about the fighter.
1. Tough Enough was an eye-opener
Despite being eliminated on the third episode of Tough Enough, the experience was enough to convince Deville (who at that time was still appearing under her real name of Daria Berenato) that her future lay in wrestling. Determined not to let her early exit from the show dampen her spirits, Deville returned to LA (where she was working as a bartender) and began training in earnest with Brian Kendrick, as well as bombarding the WWE for another opportunity. Her efforts soon paid off- a few months later, she was offered another tryout and this time, proved successful.
2. She's the first openly gay wrestler in WWE
Deville spent the majority of her younger years dating men, and although she's since said she always felt there was something amiss in her love life, it wasn't until her mother's friend flatly came out and told her she was gay that she began to realize the truth about her sexuality. Her public coming out, meanwhile, happened almost by accident. During the WWE Tough Enough reality series, Paul "Triple H" Levesque asked her on camera if she was a relationship- without giving it too much thought, she blurted out that she had a girlfriend. Although it wasn't planned, Deville has since spoken about how grateful she is for her very public coming-out party, telling E-News, "It forced me to be true with myself. At that moment, I was put on the spot and I had to tell my truth. From then on it was like, "Well, now I have to live my truth because everybody knows.'"
3. She and her mother have matching tattoos
Deville has been getting tattoos since she was 16, but there's one in particular that has a special significance to her: an inking on her bicep that matches the one her mother has. "It's an equal sign for equality," she explained to Allure. "I've had tattoos since I was like 16, but if you would have asked the younger me to get a tattoo that symbolized my sexuality, I would have told you no, because that's how not OK I used to be with it."
4. She's a foody
Deville may be a demon in the ring, but out of it, she's known more as a foodie. Along with fellow WWE star Amanda Saccomanno (aka Mandy Rose), Deville is responsible for "Damandyz Doughnuts", a YouTube channel that began as a chronicle of the duo's efforts to find the world's best doughnut and has since expanded to document their every culinary journey and discovery.
5. She's best friends with Mandy Rose
Deville may not have walked down the aisle in her personal life, but she and fellow WWE star Mandy Rose have been work wives for years, ever since they first met on Tough Enough. "Mandy has been my best friend since the first day of Tough Enough tryouts," Deville has said. "I was expecting her to be like valley girl like, 'Hi, I'm Mandy.' She turned around and was like, 'Yo, what's up?' I was like, 'She's cool.' At that moment, we became best friends."
6. She loves being a role model
Deville's status as WWE's first openly gay wrestler has made her into something of a role model- a role she's fully embraced. "I love enlightening the fans on what those things are because so many people are going through similar experiences and have amazing stories I love to hear and relate to myself," she told Last Word on Pro Wrestling. "Spreading the positivity is just as important and telling the difficult stories. It's all about informing and growing together."
7. She trained in martial arts
Deville has described herself as a "tomboy" growing up and was always keenly into athletics at school. After leaving Seneca High School in Tabernacle, New Jersey at the age of 16, Deville began training and competing in martial arts competitions- an interest she took to the next level a year later when she left home to move to LA and train with one of the US's best fight teams, American Top Team.
8. Her debut on "Monday Night RAW" is her best memory
Deville has been competing on the WWE circuit since 2015, but it's her debut on "Monday Night RAW" that still stands out as her most memorable moment in the ring. "We got to run in through the crowd and it was obviously a surprise that we were debuting," she told Fox News. "That is one of my favorite moments of all time. I think I will always remember that feeling of butterflies and the excitement and adrenaline we had before that."
9. She's doing her bit for the community
Deville is no stranger to working on community projects and is committed to using her own experiences (not to mention celebrity platform) for the greater good. The WWE star works closely with the Be a STAR program (an anti-bullying initiative that works to encourage kids to treat others with respect through education programs and grassroots ventures), GLAAD and Girl Up.
10. She likes being able to show her vulnerable side
Although Deville initially had some doubts about putting her personal life on display in Total Divas', she's since learned to enjoy putting the more vulnerable side of personality on display. "Being Sonya Deville on 'SmackDown' is, 'I'm a badass. I'm a fighter,' she told Fox. "On Total Divas, they see my relationship with my girlfriend and all the other girls on the roster unfold. They see the tension and the animosity that I went through this season."