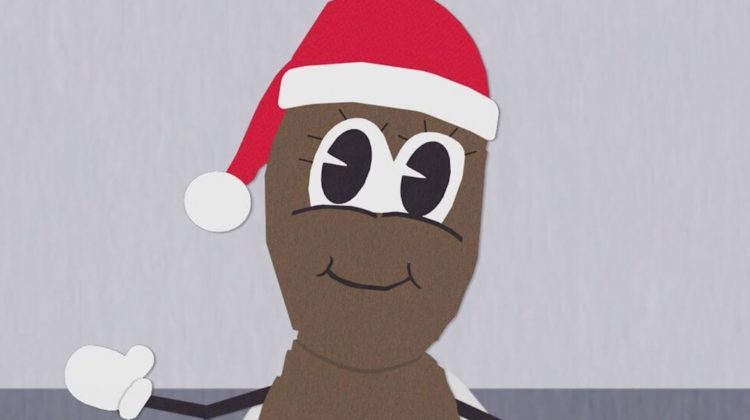 Seriously, did you really want to know that much about a talking turd named Mr. Hankey, the Christmas Poo? If the answer is 'not really' then you probably belong to a very big group that would gladly flush this thing a dozen times or more in order to get the strange, Santa hat-wearing South Park character to just go away until next Christmas. But the thing about Mr. Hankey is that he's been around longer than the show if you can believe that, since Trey Parker's father carried around the story of Mr. Hankey from his childhood and passed it along to his son when it was determined that he needed a bit of motivation to flush now and then. Of course, Parker's father actually told him that Hankey would murder him if he didn't flush, so the motivational aspect of this was born more from the fear of being smothered to death by a talking piece of poo, which is just gross when one really thinks about it. Apart from that, however, Mr. Hankey has gone on to be a big part of South Park as the years have gone by, and thirteen years later he's still one of the characters that people will gladly talk about as they recount just how Kyle first saw the talking pile of excrement in his bathroom, even if his parents didn't.
The fact is that Mr. Hankey was almost the star of South Park at one point, but one can easily guess that a show based around a literal piece of crap would be more than a little awkward, even if South Park has gone on to be one of the biggest and most well-respected animated series over the years. Had Mr. Hankey been allowed to take center stage that often though it does feel as if things would have been very different and the ratings might have fluctuated quite a bit, if they'd ever risen high enough for the show to continue. Something about a show that features a talking piece of poo as a main character doesn't sound like it would please a lot of people, but as a recurring character, it would appear that Mr. Hankey has been widely accepted throughout the years, no matter that he's one of the more disgusting characters that's ever been created. But if anyone was looking for Trey Parker and Matt Stone to state that they were hesitant to put Mr. Hankey in the middle of everything then they either haven't watched South Park or they haven't been paying attention for a while. The duo that created the show isn't known for taking into account what naysayers have to say about the show, at least not to the point that they're going to ease back and think about certain characters or subjects that they've covered.
With all that's gone on during the inception of South Park, Mr. Hankey is actually par for the course when thinking of all the characters and situations that have been presented on the show. The fact that he's a magical lump of crap isn't exactly news on a show such as this since he comes off as just another eccentricity that the creative duo decided to include in order to entertain those that were already hooked and test those that were on the fence. One character usually isn't enough to lose or gain that many fans, but Mr. Hankey actually appears to have converted more people to South Park than he's dissuaded. Some might want to claim that this is disconcerting since to be fair, it's a lump of crap with a face and his own part on the show, but people have come to enjoy Mr. Hankey so much that it's likely that they might raise a huge stink, no pun intended if he would have been erased from the show prematurely. As it stands, Mr. Hankey became yet another issue in a time when cancel culture and PC culture are still doing far too much to affect what we see and the manner by which we're entertained. It's true that he was a disgusting and disturbing character, but at the same time it would have been better to see if interest in him would have waned on its own since like him or not, Mr. Hankey is another expression, however disgusting, that is allowed by the simple freedom of expression that everyone is supposed to have.
I won't go into a long diatribe on how our freedoms are being oppressed, since to be fair, such freedoms are bound to remain no matter how hard the cancel and PC cultures want to clamp down. Yes, Mr. Hankey is an absolutely vile and nasty character to think about, but considering that he's helped to shape South Park in his own manner it's fair to say that the character does have value.