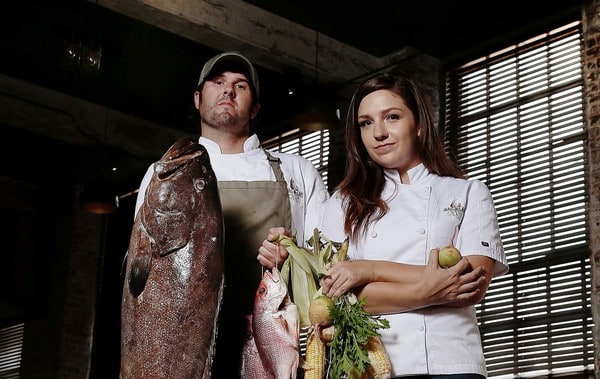 Cajun Aces is a new show on the Food Network. It follows two chefs who visit in Louisiana to source ingredients at a family farm. They get everything here from crawfish to okra and then demonstrate how they use the ingredients in their restaurants. They get into the business of narrating the story from harvesting to cooking where they first tell a tale of an ingredient, go ahead and harvest it, prepare it at the family farm and later go to one of their restaurants to make various versions of the dish. "Crawfish and Mirliton" is its premiere episode that will air on December 2nd at 7 pm.
Husband and Wife Host the Show
New Orleans husband and wife chefs Sam Cody and Samantha Carroll are the stars and hosts of the new food show. Both are graduates of culinary school. They met and fell in love at the Louisiana Culinary Institute in Baton Rouge. It was also where their cooking adventures began. They currently reside in Lakeview with Malley, their 21/2-year-old daughter.
The Chefs Already Own Two Restaurants
The couple already owned two restaurants before they started their gig at Cajun Aces. One of them is known as Hot Trails which is a casual Creole and Cajun Restaurant that they opened in April 2010 after graduating from culinary institutions. They hold brunch here every Sunday.
The second restaurant is known as Sac-a-Lait which is an upscale restaurant that primarily focuses on Creole and Cajun-inspired dishes. The chefs started the establishment in 2015, and in the same year, New Orleans Magazine named it Restaurant of the Year. It was the first time that a newly opened restaurant had received an award in the same year it started operations.
LCI will Host Private Viewing for the First Episode
The graduates from LCI will gather at the establishment for a private viewing of their first-ever episode. Lucky people to attend the show include their family, staff, friends, as well as regular customers of both their restaurants.
The Show is Not All About Food
While the show's primary subject is about food, viewers will also get an opportunity to see an insight into the life of the married chef couple. They will even get a glimpse of Carroll's and her husband's lives between both restaurants. Note that the two establishments are different with different atmospheres with New Roads being a small restaurant in a small town while Sac-a- Lait is a significant entity that gets massive tourist attention.
The Chefs Did not Seek Out The TV Projects
Both Carroll and Cody agree that it was their work ethic that landed them on Cajun Aces. They did not seek out to be part of the show. They say that they were busy keeping up with their motto of kicking butt working in the restaurant industry and people would notice the hard work they put in.
After the couple opened a second restaurant, a production company called them after six months to conduct a Skype interview. They had a conversation with one of the leading people and started developing a pilot for the show. They shopped around the pilot in New York, and Food Network picked up almost immediately. By the next morning at 10 am they already had the green light for the new show. The pilot was shot in June 2016, but work on the series has been going on since May the same year.