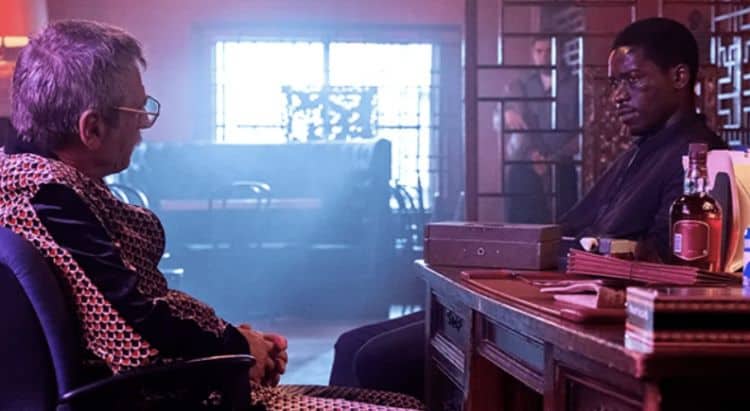 On Snowfall Season 5, Episode 5, Franklin's organization suffered a significant ambush, unlike any attack they've ever experienced. Franklin's organization has grown tremendously, and his drug empire is way too big to operate under the radar. It was only a matter of time before someone sought to dethrone him. Teddy was shot and fled the scene during the attack to get help. Franklin and Gustavo, aka Oso (escaped but ended up in a rough neighborhood carrying over a million dollars in cash. Jerome, Louie, Cissy, Veronique, and Leon were all ambushed in a drive-by shooting, but fortunately, they all survived. After breaking into his house to seek refuge, Franklin and Oso were locked into a cage next to a tiger by a crazed man.
On Snowfall Season 5, Episode 6, "The Iliad Part 2", Franklin and Oso find themselves in a rather bizarre situation, at risk of being eaten alive by a tiger. Once fully awake, they wasted no time trying to figure out a way to get out of the situation. Franklin offered the crazy old white man that had tranquilized and locked them in the cage money from the duffel bag of cash they stashed in exchange for their freedom, but he laughed at Franklin's offer. The old man became enraged when he noticed that Oso used his belt to link their cage to the cage holding the tiger, preventing it from ascending. When the old man climbed the cage and tried to shimmy the level to feed them to the tiger, Oso rattled the cage until the man dropped too close to the tiger, and the beast ripped his leg off. As the animal feasted on the man, they could get the key and free themselves.
Unfortunately, Franklin and Oso weren't out of the woods yet. They were still stranded in enemy territory with a gun with no bullets. As expected, they ended up getting captured by the Mexican gang they were fleeing from and held hostage in the back of a salon. They were all out of options, with no hope of being rescued; Oso and Franklin started to accept their fate. Franklin shared with Oso that his girlfriend was pregnant and they were having a girl. It was nice to see Franklin and Oso bond like two old friends rather than co-workers abiding by work politics. Eventually, Franklin strikes a deal with the Mexican gang leader to take them to the money they stashed in exchange for their freedom. However, he would have to leave Gustavo behind for insurance.
Luckily, Franklin outsmarted the gang and led them to the old white man's house instead, where they were eaten alive by a tiger. Franklin grabbed one of their guns and pulled it on the gang member waiting behind the wheel. He forced him into the trunk and the drive to a payphone where he called Jerome and Leon for backup. Oso heaved a sigh of relief when Franklin came back for him. Oso wasn't all the way sure if Franklin would save himself and keep it moving or take the risk and come back for him. Franklin admitted that he knew that Teddy and Oso had spied on him during their first drop, and as a result, he didn't trust them. It turns out that Oso was oblivious to the scheme. They were shocked to see the tiger that ironically saved their lives roaming the streets on the drive back home.
Although Franklin and his crew were able to escape unscathed from the vicious attacks that were meant to wipe them out, they were robbed of every dime stored in the money room. Only three people knew where all the money was kept. Those three people were Franklin, Jerome, and of course, Peaches, who was missing. Some would believe that it was a small price to pay for their lives. But with no drugs, no connect, and hundreds of thousands of dollars if not millions in re-up and profits gone, their drug empire was in its most vulnerable state. All of the big plans Franklin had in motion to get out o the game were at risk. What did that mean for his family's future?
Dallas and Black Diamond found out that Kane, Kevin's brother, was fresh out of jail. If you remember, back in Season 2, Kevin, Leon, and Franklin were best friends. Kevin was loyal to Franklin for a while until he decided he wanted Franklin's spot. Franklin was forced to kill his best friend, and Kane was out for revenge.
Tell us what's wrong with this post? How could we improve it? :)
Let us improve this post!