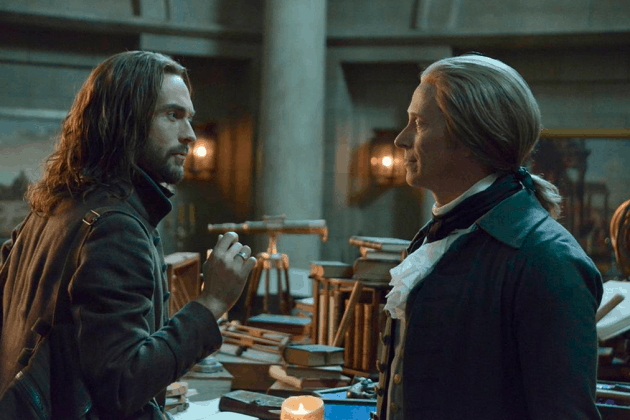 Remember when I said that this second season of Sleepy Hollow would end on a strong point? After watching this week's episode, I'm not so sure anymore. It seems that a lack of focus in terms of the storyline has forced viewers to stop watching the series. It seems that the show is no longer the "must watch TV" kind of show that it once was. It truly is a shame to see the series go downhill like this. Sure, we've always had monsters of the week to deal with, but the endgame was stopping the Apocalypse and two Witnesses fighting the forces of evil to avoid the "End of Days." Now, though, it seems that there's no endgame of any kind whatsoever.
Back to the point, this week's episode of Sleepy Hollow begins with three workmen mapping out sections of Sleepy Hollow, and they come across a sealed brick wall. When the workers tore down the wall, they saw a manhole-like fixture that turned out to be a trapdoor with symbols written on it like a border. The men decided to include the trap door in their map and opened it, to which I predicted that they were a bout to meet a grisly end and sure enough, a Reaver popped up and dragged all three men through the trapdoor.
Sharif Atkins' (aka Jones from White Collar) guest spot as Pulitzer Prize winning journalist Calvin Riggs was great. The guy is a fantastic actor, and there was a tiny trace of Jones in his performance, or it could be that I kept calling him Jones in my mind since that's where I've seen him act on television. I also loved Steven Weber, who has played many roles in the past, including voicing Charles B. 'Charlie' Barkin in the animated film All Dogs Go To Heaven, as President Thomas Jefferson, author of the infamous Declaration of Independence and designer of the Monticello.
I also enjoyed the fact that Jefferson "unfriended" Ichabod back in the colonial era. Hearing the latter say that was hilarious. It's always amusing to hear Ichabod trying to grasp modern terminology like Instagram. He mispronounced it as "Instant Gram." I also agreed with him, to an extent, when he said that people should enjoy life and not post it online, but this is the age of technology and we are dependant on it.
When Abbie and Crane went to search for the missing workmen in the tunnels, they came upon a swarm of Reavers and fought their way towards the door that led to the Fenestella. When they entered, Ichabod was surprised to see Thomas Jefferson alive, but the man before them said that he wasn't actually alive but a hologram of sorts, created through magic and technology, that shares Jefferson's original memories, feelings, and personality. The hologram Jefferson even said that Benjamin Franklin was jealous when the latter saw the hologram generator. On a side note, the Reavers were some of the scariest creatures that I have seen this season, but they just reminded me of the creatures from the movie The Descent, where they're shrouded in eternal darkness causing their facial features to transform from human to monster-like.
Jefferson's Fenestella was surrounded by books and vital information that he believed superseded the lives of the men who had been abducted, because the books contain information about our favorite Witnesses, whom Jefferson knew everything about. There was even a whole chest, called the Folio Immaculata, filled with the names of people who mentored the Witnesses, like Washington and Sheriff Corbin. Ichabod then tried to convince Jefferson that saving innocent lives is more important than some old books to which Jefferson finally agreed, calling Ichabod a true "founder of the country" and pointing to the best spot to blow up the Reavers and destroy this one-of-a-kind ancient library, along with Thomas Jefferson's hologram.
I liked when Abbie and Ichabod teamed up with Calvin to help rescue his brother Daniel, one of the remaining two workmen who was trapped in the tunnels, because Calvin didn't want his four-year-old niece to lose her father. The third workman, unfortunately, had become dinner for the Reavers. I cringed a little bit when Ichabod used Calvin's $7,000 camera to distract the Reavers like it was nothing but it was all done in the name of rescue.
Meanwhile, Captain Irving, who is definitely a bad guy now after seeing him hand Henry the Grand Grimoire, met up with Jenny at the bar and asked her to help him retrieve some of his personal belongings that were still in the evidence room. Jenny became suspicious when she noted an archaic-looking tattoo on his forearm, which signified membership to the Hellfire Club. However, she helped him get access to the evidence room anyway.
She then pulled a gun on him when she realized the truth behind Irving's request, as they searched for Irving's belongings. They chased each other around for a while, and then Irving told Jenny that he had found a magic rune that protected him from whatever curse that Henry had put on him. Only this time, the rune's magic was slowly expiring, and Irving was going to be taken over by the dark side so he needed Jenny's help in ensuring that his family would be protected from harm.
We then saw Henry and Katrina for a brief moment at the end of the episode. Henry told Katrina that he killed Moloch, his supposed father figure, for her and for their kind. He then squeezed a thorny rose into her hand. Katrina awoke with a start, thinking that it was all a dream, but when she went to the wash basin to wash her face, she found that the water has been tainted red and turned to see the dark, shriveled roses on a stool nearby. It's looking like Henry is trying to get his mother to join him on the dark side. Guess we will have to see if that's true in the final two episodes of the season.
So Sleepy Hollow fans, what do you think? Will Henry succeed in his plan for all that is evil, or will our Witnesses stop him in time and save all those involved? Did you like the Jefferson hologram? I know I did. I laughed out loud when Ichabod moved his hand back and forth through the hologram and earned himself a semi-annoyed "Must you?" from Jefferson.
[Photo via FOX]