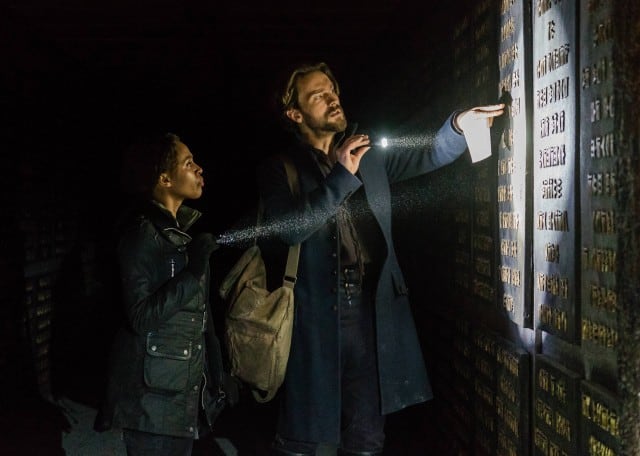 History is about to repeat itself (in a manner of speaking) on tomorrow's episode of Sleepy Hollow. Team Witness are going to cross the Delaware River and head to the catacombs like General Washington once did (according to Sleepy Hollow history). Will their journey prove to be a fruitful one? Or will they encounter the Hidden One and his demon minions?
There's also the question of Agent Reynold's usefulness to the team. The man had just found out that Abbie has been fighting supernatural crimes along with the actual cases so there's a lot to process in a short amount of time. I'm thinking that he should still remain on the sidelines (or as a last resort backup) but be in the know so that he knows what's going on and doesn't have to suspect Abbie of any strange behaviours or sudden departures like before. Just saying.
Coming back to the subject of the catacombs, will Pandora get there before Team Witness does? If so, will she turn on her husband and help them defeat him? The sorceress seems to do just that in the preview clip below, but there's still an inkling of mistrust hanging over my head as I'm sure Team Witness is also in the same boat. On the other hand, if I were in Pandora's shoes, I definitely would team up with the Witnesses to take down my abusive husband and free myself from him once and for all. I also wonder what kind of Plan B Jenny and Joe are cooking up in case Ichabod and Abbie come back from the catacombs empty handed. I hope that there's magic spells involved.
With the third season finale coming up the week after, it's getting to be quite the nail-biter. Both for the success of the Witnesses in saving the world from the Hidden One and for the show coming back for another season. I don't want to burst anyone's bubble, but I think that this season may be it for the series. Should the show be renewed for a fourth season, kudos. If not, then best of luck to the cast's future endeavours.
https://www.youtube.com/watch?v=4be6dcd33pg
Photo via FOX, Video via YouTube