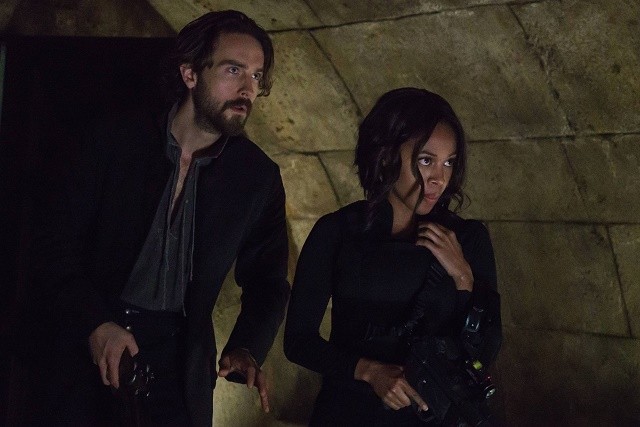 "Novus Ordo Seclorum," or New Order of the Ages, couldn't be a better-suited title for this mid-season finale of Sleepy Hollow. Operation Save Jenny's Life is underway as Jenny, under the influence of the Shard/All-Seeing Eye, lies upon the shores of a river in a secluded forest as Pandora bathes a mummified being in the rivers' waters. It is later revealed that the mummified being is known as The Hidden One, God of the Underworld, and also Pandora's husband (how she managed to marry a God, I'll never know).
It was fascinating to know that the writers incorporated a little National Treasure into this episode as Team Witness decode what Jenny had drawn on the walls of the Masonic Cell. Ichabod's dislike of Benjamin Franklin is still as passionate as ever as he ranted about how Franklin boasted about his part in designing a new form of currency for America. The Founding Father, according to Ichabod, even wrote a treatise on the Eye of Providence, seen on the back of American currency.
I tried to hide my laughter when Ichabod, Abbie, and Joe went to a university campus in Albany to acquire the First Book of Masonic Law from a hidden room within the study of an old lodge house on university grounds. When Ichabod said that the book was kept to be studied by the brightest, most learned minds of academia and then saw a college toga party at a frat house. I can only imagine his shocked dismay at what the educational system has been reduced to. At least he was amused when Joe told him about his days at college.
I was a bit confused when I saw Ichabod open the entrance to the hidden compartment in the study. It was as if he had been in the room before and knew which symbols to press in order to open the door. Would've been nice if he briefly explained how to open said door instead of just opening it. The same with the part where he opened the secret podium that contained the book.
I laughed at the scene where Joe said "Okay, I'm still not used to the way you name-drop." It reminded me of that sense of humor that Sleepy Hollow had when it first began. Granted, it's still present, but only at the expense of Ichabod as he continues to learn more about the modern world.
I have to admire Joe's determination as he perused the book of Lycan spells to try and turn himself into the Wendigo monster again to save Jenny from Pandora and her deity hubby, but as Ichabod said to the emotionally driven man, there are lines that should not be crossed and forces they should never unleash; if they do, then they would risk the very humanity for which they fight. In other words, don't mess with things that you do not understand given that you might not know how to stop them if you do. Makes sense, don't you think?
When Team Witness barged into Pandora's lair, it was blatantly obvious that their cover had been blown as the sorceress saw Abbie and Ichabod coming in from the tunnel passageway. Abbie tried to make Pandora eat lead, but that didn't work as the bullets barely wounded her. It was nerve-wracking watching Ichabod use a taser to render Pandora unconscious; apparently, guns don't work on a sorceress of legend, but apparently a taser works wonders. Who knew?
Abbie then managed to extract the Shard from Jenny's body with the casing that was used to conceal its power, but made the ultimate sacrifice by going into the tree before the Shard exploded, much to the chagrin of Jenny and Ichabod. If this Shard explosion causes Abbie to be transported into the Underworld, then it's high time that Sleepy Hollow went on another road trip.
Agent Reynold's call to Walters after Abbie resigned from the Bureau, saying that the asset that they were cultivating is now lost, makes me think that he has some sort of ulterior motive coming back to Sleepy Hollow as the agent in charge. This show may be on the predictable side at times, but it certainly has a way of making you want to find out more about the story.
[Photo credit: Tina Rowden/FOX]