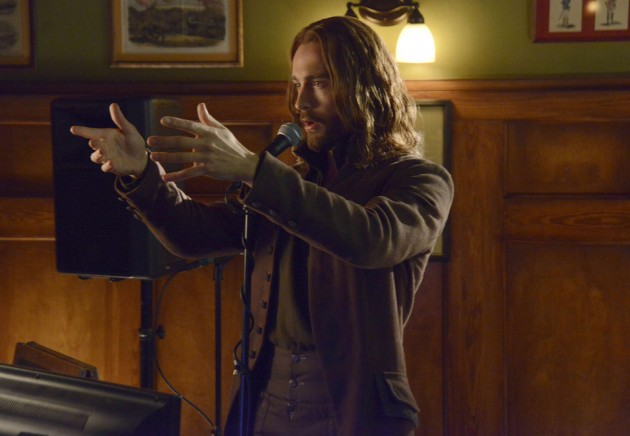 Having spent most of the time searching for, and killing off, Moloch and many other demonic demons, we find our favorite Witnesses having a relaxing time in this week's episode of Sleepy Hollow with Karaoke Night. Jenny, Ichabod, and Hawley are sitting at the table in the bar while Abbie is belting out "Crazy" by Gnarls Barkley. I was shocked to see that Abbie can sing extremely well. Though that's not that much of a shock as Jenny said that Abbie used to do karaoke all the time which, in turn, surprised Ichabod as he listened to Abbie finish the song. I guess that Sleepy Hollow is starting to inch back to getting more intense in terms of its storylines, as there are only four episodes left in the second season, but last night's episode was kind of relaxed in a way as we took a glimpse into Nick Hawley's backstory.
We meet his godmother Carmilla Pines (guest star Jaime Murray), who raised him after his parents died in a tragic accident, who then later on turned out to be a Vitala, an undead human being from Hindu lore that serves Kali, the Goddess of death and regeneration. Though Carmilla wasn't always the undead minion of a many-armed immortal goddess, she got transformed into one years ago, when she was chasing a runaway Nick Hawley across the globe. According to Carmilla, gaining possession of the statue of Kali will allow her to reverse the curse, thus transforming Carmilla back to her human self. Hawley accepts this explanation without a second thought and goes with his godmother to steal the statue from Theodore Knox's estate. Talk about breaking into Fort Knox literally..
The scene where Abbie and Ichabod were hashing out their partnership in Theodore's vault as walls filled with spikes started to close in on them was both nerve-wracking and a bit of a facepalm moment. I mean, there they are, about to be impaled by walls of spikes, thanks to Ichabod for choosing the wrong button to press, and Abbie just had to throw in a Star Wars reference. Good thing Ichabod finally pressed the right button and both of them, along with Jenny, who was locked in the closet by Hawley, made it out alive. I also want to mention that Nicole Beharie and Tom Mison have such a wonderful chemistry that each and every one of their scenes were by far the highest points of the hour. Their karaoke scene at the end, with Ichabod and Abbie singing "Proud Mary" (no offense Ichabod; but the judges on American Idol would cringe at your singing) and Ichabod not understanding the lyrics was very amusing. This chemistry managed to find different notes throughout the series so far while gracefully dishing out the story of the current episode.
The only down side to our Witnesses reaffirming their bond of teamwork and friendship is that everything else kind of suffered a little bit. The reveal that Nick Hawley was raised by a person who was transformed into an undead servant of a Hindu Goddess didn't really hit the target so to speak. Instead of dropping subtle hints during the season at what Hawley's past might hold, we had it thrust into our faces, which didn't give us much time to set up the kind of emotional stakes that Sleepy Hollow usually brings to its viewers. Aside from that, Matt Barr did very well with the time that he had to show how shocked and conflicted Hawley was about his situation, which ensured that his hesitation to kill Carmilla made perfect sense. Hopefully, he will come back in future episodes.
I'm actually relieved that Carmilla got away at the end, because that leaves the door open for the writers to dig further into Hawley's past. Sleepy Hollow continues to make a real effort at getting all the characters involved and rounding them out (the exception being Reyes, who remains someone we know virtually nothing about), so it would have been a huge letdown to see Hawley's godmother get killed off so easily. Hawley was a risky introduction to the cast, because the rakish scoundrel act is no easy task to pull off. However, he's been an unquestioned part of the team for a while, and everyone's insistence that they're his family now felt earned in a way.
Meanwhile Katrina was helping the Irvings find out once and for all if the good Captain is still tied to the Horseman of War/Henry/Jeremy Crane, and sure enough, something's definitely not right with Irving as we see that he has no reflection (#vampire?) when he looked in the mirror as he hugged his wife. Even though Katrina said that all ties between the second Horseman and Captain Irving have been severed, it seemed kind of unconvincing because her tone wasn't very positive. Perhaps Henry still has some sort of control over Irving's soul, and I'm sure that in next week's episode we will see just what fate has in store for Captain Irving and if Henry/Jeremy will make an appearance.
Only four episodes remain in this second season, and the entire fate of Sleepy Hollow hangs in the balance as a renewal for the show is still very much up in the air. Let us hope that it will all work out in their favor.
[Photo via FOX]