Monday brings with it a certain type of anger that is difficult to comprehend on the Bold and the Beautiful. Sasha is done with Nicole. She is finished. They are, as far as she is concerned, no longer friends. In her mind, they are no longer sisters, either, but since Nicole has no idea that Sasha is actually her half-sister, we're not sure this counts at the moment. Everything that has happened is really starting to sink in for Sasha. She is sitting here all alone, without a family and without a boyfriend, without all that Nicole has and she is furious that her ex-friend doesn't appreciate any of what she has. All Sasha wants is for Julius to take her side, to acknowledge her as his daughter and to make things right for her, and he refuses. Nicole gets him all to herself. She wants to take Nicole and make her pay for everything; for getting her fired from Forrester and for being and having everything that Sasha has always wanted to have.
She's angry. She's done; and she's working on Zende. Of course, Nicole and Zende will not know that Sasha is so mad. They think she is fine and that she is as kind as can be. It's all a part of her plan to take Zende from Nicole. The more she can make him think that she is sweet, wonderful and innocent, the more likely she is to convince him that the problem is actually Nicole. She will have him eating from the palm of her hand in no time at all, and that's all she wants. Revenge and payback; she might or might not have any actual feelings for Zende, but that's beside the point. She needs him to take Nicole down and strip her of all the things that she doesn't want her to have anymore.
Bill and Brooke are in a tough spot right now. Katie wants Bill to ban Brooke from their lives forever, and she is not into that. She doesn't want to be taken from him, but she also doesn't want to hurt her sister any more than she already has. She wants her sister to know that she is not looking to steal Bill, but we fail to see how this is going to work out for Brooke at all. After all, it's not like her sister is going to ever trust her to keep her hands to herself given their past and what she heard in Bill's office. She can't be expected to forgive her sister and do things like girl's night out and celebrating the holidays together. A normal sister would want her sister out of her husband's life all the way, and Katie is working on that every chance she gets, even though she is clearly facing defiance from her husband along the way. She's finally gotten a contract stating that Brooke is no longer welcome in their lives, and we saw Katie hit her on Friday.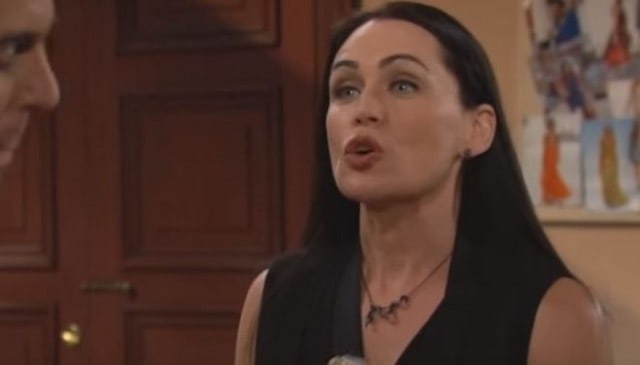 Now what will come of their relationship? Katie has accused Brooke of blaming her actions on everyone else rather than taking responsibility for them, and we have seen her try to tell her sister that she is the worst person ever to live. Does Brooke know that Katie never wants to see her again, or does she hope her sister was just speaking in anger and will eventually change her mind about how she feels? Additionally, what will Bill do about this entire situation? He is just as much in love with Brooke as she is with him, though he will never tell his wife this information. It looks like Brooke is really trying to protect her sister by not telling her that Bill is also in love with her and that she was the one who was trying to keep away from him as he made advancements. Perhaps this will be the day when Brooke gets tired of being the one to blame and she opens up about all that Bill has confided in her, from his dirty fantasies to his advances to the fact that he wants to be with her, too.
Photo Credit – YouTube