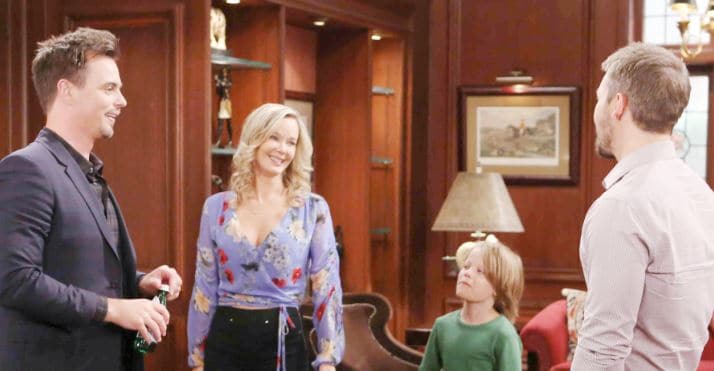 The Bold and the Beautiful fans are worried about Ridge and Brooke, but we also feel that we say that more than just about anything else. We say it so often we aren't sure we even mean it anymore. Is there anything we can do to hope that they get past this, or do we even care at this point? She's been making a mess of her marriage since she got married, and it's not good. She cannot stay out of the lives of everyone else, and she doesn't get that she is the problem. She has no idea that she's the woman who is behind all of this, and that she is the woman who has some issues of her own to deal with. She's not the problem in many other instances, but she's the issue in her marriage. She cannot leave anyone else alone, and her marriage cannot handle her being all up in everyone else's business against the wishes of her husband.
She's made her bed, and we cannot help but wonder if she wishes she'd made it with Bill. But she might have her chance. Although, we do think that this marriage will fall apart in the end, too. She will end up back with Bill, they will fall apart, too, and she will end up back with Ridge, and we will all watch this all happen a million and one times — again. But for now, though, we just sit back and allow it to happen. The week was ugly, and Quinn is also worried about her own marriage now that Donna is in town and making her presence known to Eric without any issues. Things are just messy and ugly, and that's not something we can help. But it does make it exciting, right?
What's Happening on the Bold and the Beautiful
Can you get any more iconic than @BettyMWhite? No, no you cannot. Don't miss emotional flashbacks of her character Ann on #BoldandBeautiful: https://t.co/1Gt22cjNWk pic.twitter.com/oZqtorMGlJ

— CBS All Access (@CBSAllAccess) November 7, 2018
Can we just take a moment to sit back and think that we do love her so much, and we really do love that she is just as amazing today as she was yesterday or yesteryear? She's so full of life and vibrant and amazing, and we just adore that about her. And we cannot wait to see this.
What's Next on the Bold and the Beautiful
The ultimate con could have catastrophic consequences. 🚨 See what happens this week on #BoldandBeautiful! pic.twitter.com/3PHj3H0Afo

— Bold & The Beautiful (@BandB_CBS) November 11, 2018
We cannot wait to see what things are going to happen this coming week on the show, but first we need to discuss the fact that we know that Eric is going to hire Donna to work as a co-receptionist alongside Pam. She is not happy with Quinn these days, so this works perfectly for her. She will get Eric's ex to sit there in his face every single day while he cannot help but fall for her, and Donna will work with her to make that happen. She doesn't want to be the receptionist, after all. She wants to be the woman who marries him and gets to do nothing. And she just needs to get Quinn out of her way to make that happen. And that's going to be easy for her working with Pam.
Quinn has to play her cards right. If she doesn't, she will lose Eric. She's already had more than her fair share of issues with him when she was caught in the middle of an emotional and kind of physical affair with Ridge back when he was merely engaged to Brooke before she left him and married Bill, left him and married Ridge. It's been ugly, and she will not win this if she is not careful about the way her own life is going. It's not going to end well for her if she doesn't play this just right.
Stay tuned for more The Bold and the Beautiful and be sure to check out TVOvermind daily for the latest The Bold and the Beautiful spoilers, news, and updates.