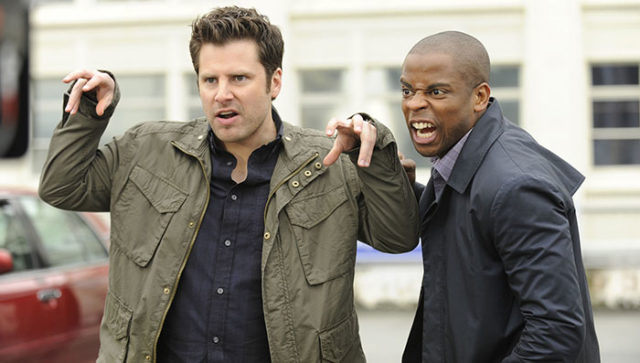 The USA network is giving us another chance to see into the lives of our favorite sleuths once more. However with the release of a two-hour holiday special Psych: The Movie this year, we're left wondering whether there's more to the future of Psych than just one movie. After all, we're now living in the age of revivals, and why shouldn't Psych be part of the revival movement? The show's had much success in its 8 seasons, and we know of many fans who would be more than excited to watch new episodes of the series again today.
It's not a far-fetched notion for the show, especially if the movie does well with viewership numbers. We predict that it will be a success, and we're pretty sure USA is up to something. There may be talks about the possibility of the fake psychics returning, but first, we have to question whether the cast themselves are up to the task.
According to actress Kirsten Nelson, who played Karen Vick in the series, there's definitely a possibility, especially now with the movie exploring new plot lines and stories for the same characters. There were things in the movie that was never included in the series, and that can be a good way to segue into a revival of the show. Actor James Roday, who played Shawn Spencer in the series, says that he's completely open to doing a revival as long as it's what the fans want. He's already said that he's on board if ever the network decides to go that route.
We haven't heard anything from co-star Dulé Hill, who portrayed Shawn's best friend Gus, but he did reprise his role for the upcoming movie. As a matter of fact, the same actors that played their characters in the series have reprised their roles for the movie. Could this be a sign of something to come? It's still a maybe. And we'll probably get a better feel for it after seeing the group together again on December 7. It has only been three years since the series finale, and in revival standards, that's not a very long time. It took Gilmore Girls almost a decade before coming back on screen and Full House over 20 years to come back with Fuller House.
Either way, the movie is a step towards a full-on revival. We'd rather have it done right, after all, and we'd rather see all the cast back in before any premature revival is done. It's easy to mess up something as great as Psych once was, and we'd hate to see it return only to find its demise (much like how Full House did). But we know there are more stories to be told in Psych, and we also know that the movie will not disappoint. This might be a good opportunity to binge on the entire series before the movie comes out this holiday season. You'll want to be prepared for when USA announces a comeback for the show.