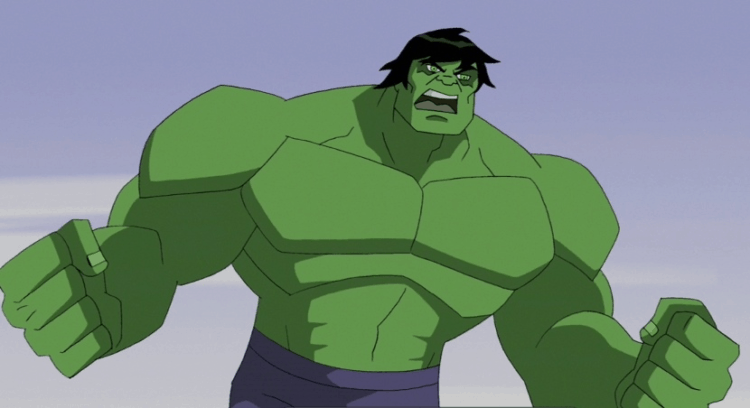 You would think with the popularity of the MCU and the current attitude towards its heroes and the possibility of so many solo movies coming out that the cartoons would be used as a way to cash in on the fame too, especially since the cartoons could be used to tell other stories within the story. So why then isn't there an Incredible Hulk cartoon out there as of now? It's been shown that the Hulk can carry his own cartoon and can easily overshadow other heroes that make their way into his presence. Even Wolverine and Thor were made a bit more interesting when they took on the Hulk in Hulk vs., but lately it seems as though people are shying away from the green goliath for a reason, though it's tough to think of what that reason could possibly be. It's kind of hard to think that it's because he got punked out by Thanos in Infinity War, but there is that distinct possibility.
There's a few reasons why he might not have his own cartoon as of now.
The Hulk is an increasingly violent character.
The kind of violence the Hulk has done might strike people in this generation as something incredibly destructive and not quite as attractive if you translate it to reality. In the movies, especially in superhero movies, things get destroyed quite often even if the heroes are attempting to take things out of the more populated areas or at least minimize the damage or loss of life. But the Hulk has rarely ever cared about who's getting hurt or what kind of damage is being done. When he and Banner merged into one being he started caring a little bit more, but the mindless monster he became and was for so long simply pounded his way through most ordeals and didn't really think about what was being done. Plus, the damage he did to the surroundings was bad enough, but he would literally eat people in some comics and rip people apart in others. His level of violence is at a point where you can't help but think that he's no longer a kid-friendly hero, and even if he's made that way in the cartoons it kind of robs him of a part of who he really is.
He might have lost face in Infinity War.
https://youtu.be/PbWzC6pgEYc
Thanos delivered the Hulk one of the quickest and most brutal beatings of his life in this movie and it's not often that you get to see the Hulk manhandled in such a way. Even Thor had a problem taking him on in the first Avengers movie. The mad titan however didn't even pause in the beatdown as he smacked Hulk hard enough to leave him breathless as he then proceeded to lay the law down on the big green guy. Keep in mind Thanos didn't use the gems he already had at his disposal to take care of the Hulk, he was going hand to hand with the big guy and teaching the Hulk why he's one of the most feared villains in the entire galaxy. Whether the Hulk is going to come back out in the next Avengers movie isn't much of a question since it wouldn't be the same without him, but he and Banner need to have a serious heart to heart. If World War Hulk had been allowed to develop though it seems like maybe Thanos wouldn't have put the big guy down so easily.
A lot of times Hulk is just raw aggression and not much else.
It's kind of hard to take the Hulk sometimes since really he's more of a battering ram than a finely-tuned instrument of destruction. This is a big reason why he couldn't beat Thanos, aside from not being as strong in the MCU as he's been in the comics. The Hulk is a brawler, a big lumbering lummox that's all power and mayhem but very little actual skill, if he has any. If Hulk became a skilled fighter there might not be a lot of people that could stand against him so easily. But with great strength and durability it seems that he's unstoppable but fairly easy to beat or avoid if one is powerful enough or skilled enough at evading opponents. Unfortunately a lot of discerning viewers that love the Hulk would also love to see the guy change it up a bit since throughout his history he's really been more of a brute than anything. Even when he had his own strength and Banner's intellect the Hulk has been more bruiser than brain and as thus been injured and even beaten because he lacks a sense of tactics and has little to no fighting skills.
Maybe if things were to change with the character, just enough to make it interesting, the cartoon might be a little more feasible.