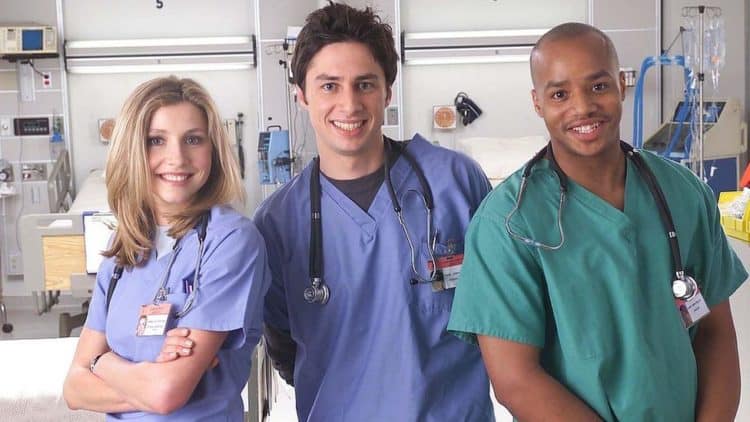 It's tough to get invested in another group of actors once they've already stayed together for longer than a couple of seasons. Some shows have made it possible for fans to cling to the characters and the stories in just a season or two, but those that have lasted for more than two seasons often find that the fanbase will have been forming by the first season and will be nearly solidified by the end of the second season. Scrubs was one of the many shows of its time that people came to love thanks to the characters and their various interactions as the show was a pleasing mix of comedy and, when it was needed, plenty of drama that kept things grounded. Quite a few hospital-based shows had been far too serious up to that point, with exceptions of course that are still fondly remembered, but Scrubs took the modern era hospital and turned it into a place that could be serious but often played host to the hilarious antics of the staff and the comically iron rule of Dr. Cox, played by John C. McGinley.
Giving a shot to the second run of the show doesn't sound like a bad idea, even though it runs the risk of trying to get people to invest their energy and emotions into another group of characters since it's fair to think that the others would have moved on by that time. It's easy to think that a few of the actors would express an interest in returning, perhaps for cameos or for recurring roles, but it also feels likely that there would be more focus on the new interns and whoever else was being given the top billing. Bringing back Dr. Cox would be kind of necessary since he's the perfect blend of doctor and tyrant given that his character cares when he has to and is otherwise a devil with a stethoscope most other times.
How welcoming people would be of another cast, if Scrubs ever did get another chance, is kind of hard to predict since it's fair to assume that investing in an entirely new cast would be something people were willing to do. If it was an entirely new show then perhaps it would be something that might show a bit of promise. But trying to revive an old show with a brand new cast is a huge risk since people have already come to believe in the show, and if they're not given what they want to see then the show may flop. This is a dim but realistic view of how things work when it comes to trying to revive older shows since the truth is that once a show is canceled or has run its course and finally signed off, bringing it back isn't always a popular idea. Scrubs was the type of show that had to fight so that it could stick around, but after nine seasons it's not too hard to admit that there were plenty of people that wanted to see the show succeed. This made it possible for the show to reach nine seasons, but after it was over and done, it felt like it could have kept going.
It's possible that it could have, but at the same time, wondering if people would have kept up with it is tough to say. Shows that outlast their welcome are just as common as those that gradually change cast members as they continue onward after ten seasons or more. To be sure, changing cast members is bound to be necessary after a while since it helps to move the story forward and create a general appreciation from the fans since otherwise things tend to get stale and fall flat very quickly. This is why bringing Scrubs back could be kind of risky since everything that happened in the nine seasons it ran would be remembered by the fans, giving the new material a very thin margin of error once it was started. There's always the possibility that the new attempt could blow up and do something special that might make it just as big as the initial show, but that's a lot of optimistic thinking to be certain.
Scrubs had its shot a while back and it became the favorite show of many people during its nine-season run. There's a good chance that a new cast could make something special happen and it's even possible that it could make a comeback. But at this point, it does feel as though it's best to just let things sit as they are. When a show comes along and gains the attention and love of the fans, it's best to let it run its course and then leave it alone when the time comes to say goodbye.