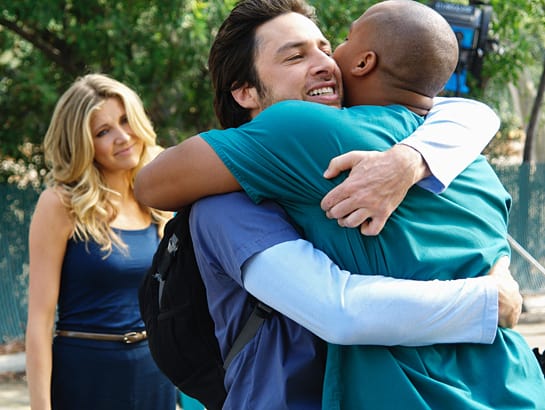 Of all the things Scrubs did well through its nine season run (yes, Scrubs: Med School counts – and no, it's not as bad as people say it was), how it dealt with death was often the most impressive. Sure, every comedy under the sun has done an episode or two that deals with death in some form or another – but on Scrubs, death was an important cornerstone in the growth of its main characters, and something that continuously challenged them throughout the show's run, always in meaningful ways.
For a medical show, death is the ultimate antagonist: it never loses, and often, doesn't even need a reason to win. Death is the one inevitability in life – and as Dr. Cox points out to J.D. early in the series, a doctor's job is really just a stalling game, an attempt to keep the Grim Reaper fooled as long as we can. However, death always wins out, forcing us to come to terms with things we've fought against, hid from ourselves, and tried to deny: as a storytelling device on a medical show, it's an invaluable tool in making characters take stock in their lives, and catalyze change for the future.
Scrubs' mastery of death as a narrative device is seen as early as the show's fourth episode, "My Old Lady", which opens with a voice over discussing a specific statistic – that is, one out of three patients admitted to the hospital never leave again. Through the course of the episode, J.D., Elliot, and Turk bond with individual patients who teach them specific lessons about being a doctor: about how compassion can be tough love, or how surgery becomes a lot more real when it's not just meat bags and body parts on the table. When all three patients die at the end of the episode, a tragic moment suddenly becomes a reflective moment – and then, a cathartic one, drawing parallels to the angry, self-destructive doctor drinking at the bar (Dr. Cox), as the end of the road for those who become too consumed by their job, and the inherent failures that come with it (failure being a very hard thing for Cox to deal with, given his God complex and father issues… "My Old Lady" is really a genius episode, if you dig into it).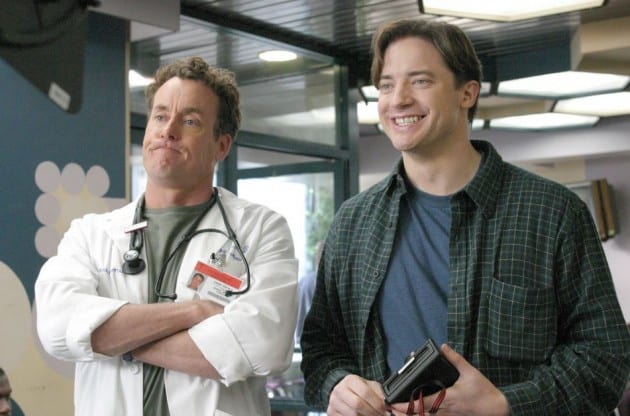 From there, Scrubs continued to employ death to great benefit in later seasons, highlighted best in season two's "My Screw Up" and season four's "My Cake". Each time Scrubs revisited death, it brought depth and meaning to the journeys of its main characters, debunking the simple misconception that doctors are numb to the concept of death, and also causing major changes to the status quo. Ben's death in "My Screw Up" leads to a moment of crisis for Dr. Cox, slowly leading to his transformation in seasons three and four when he decides to stop sabotaging his own life so he can protect himself from screwing up; by the same token, "My Cake" becomes a moment of growth for J.D., when he has to put himself aside for once to help his brother grieve over their father.
Season two's "My Philosophy", season one's "My Tuscaloosa Heart"… whenever Scrubs tackled death, it did it with poignancy, rather than cheap shock factor or superficial character development. The only example to the contrary is season five's "My Lunch", the only example of death on the show that felt like cruel punishment that only existed for its eternal bleakness (in it, Dr. Cox gives infected organs to three patients, killing them all). But on a show remembered mostly for its absurdity and earnest goofiness, Scrubs' best episodes were often its darkest, an impressive accomplishment for what remains one of the most underrated shows ever.
Photo via NBC