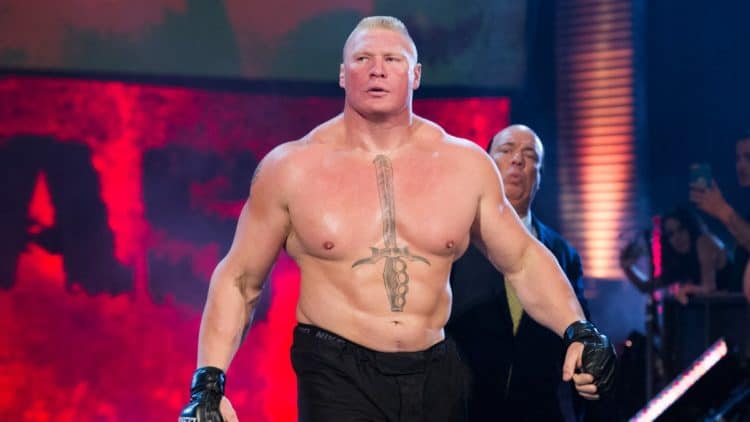 It's official: WWE Champion Brock Lesnar will fight WWE Universal Champion Roman Reigns in a title vs. title match. Now, the way this story has been built up, it seems to favor Lesnar beating The Tribal Chief, effectively ending a 500 plus title reign. To recap, Reigns beat the WWE Champion at Crown Jewel last year, though it was through nefarious means. To cap it off, Paul Heyman screwed Brock Lesnar at The Royal Rumble, putting an end to his 21-day title reign. Now, let's be clear, there's no way that Lesnar is going to keep the championship for long. In fact, this feud is obviously designed to put over Reigns as the company's top guy, even though it's been established at this point that the Smackdown star doesn't need such a major boost because of his status. On the flip side, it's not impossible for the company to temporarily give Lesnar the belt. He is the big babyface and Vince McMahon may want a happy ending for the second night of WrestleMania.
Here's the thing, Brock Lesnar is the No. 1 babyface in the company. Sadly, it's not even close. Creative has gone out of their way to showcase that everyone else is inferior to Brock Lesnar. The WWE Champion destroyed everyone in the Royal Rumble and Elimination Chamber matches. This is one of the major problems in the company. The WWE Champion appeared on The Michael Kay Show and confirmed that he considered himself retired after his loss to Drew McIntyre at WrestleMania 36. The point is, WWE shouldn't try to bank on a man who likely won't be here in ten years, wrestling-wise. WWE needs stars, and I don't mean Roman Reigns. The WWE Universal Champion doesn't even need a win over "The Beast Incarnate" because officials have done an excellent job of turning Reigns into a star. Reigns is at the point where he doesn't need big wins over the likes of Lesnar or John Cena, but there should absolutely be no way that The Tribal Chief drops the belt at WrestleMania.
The point shouldn't be to put over Brock Lesnar or Roman Reigns. It should be to put over the next generation who the company can build as another top star. Personally speaking, I never understood WWE's mindset when it comes to pushing only one face that can represent the company. Why not push multiple superstars to help your business grow? Guys like The Rock, Stone Steve Austin, Triple H, Kurt Angle were all stars that could hang in the main event scene. Plus, you had your Shawn Michaels, Bret Hart, Mankind, The Undertaker as well. When you look at the roster, who is on the same level as Reigns or Lesnar? The company effectively confirmed Big E as a mid-carder for life as he's back to clapping hands and doing New Day antics after a forgettable title reign. There's Bobby Lashley, but Lesnar acted like he was superior to the former WWE Champion and actually came close to beating him at the Royal Rumble. The only reason Lashley won was due to Paul Heyman. Drew McIntyre is being dragged down in a mid-card of death feud with Happy Corbin and Madcap Moss. AJ Styles has been jobbing left and right since he was teaming with Omos. Seth Rollins and Kevin Owens were proven to be inferior in the Royal Rumble and Elimination Chamber. Austin Theory? Nope. It's clear that he's in the middle of a push, but he's such a goofball, cowardly heel that it's hard to take him seriously as a main event star.
Someone from NXT should be the man to beat Reigns for the championship belt. Bron Breakker seems to have all the tools to do so. The guy is still green, but he's one of the fastest rising stars down in the developmental brand. Breakker is essentially a can't miss: he has charisma, a body that Vince McMahon likes, and he's actually good in the ring when you put him in with a talented name. It doesn't have to be Breakker, in fact, it could be someone on the main roster. The problem is that there doesn't seem to be anyone the company cares about pushing besides Reigns and Lesnar on the main event scene. Omos is the closest thing, but he is nowhere ready for any title, let alone a singles run. The man who first beats Reigns would automatically be skyrocketed as a star. The company has a golden opportunity to elevate someone with a Roman Reigns win, why ruin it on a guy who doesn't need it? Brock Lesnar is a talented name and a future Hall of Famer, but him winning shouldn't be an option.