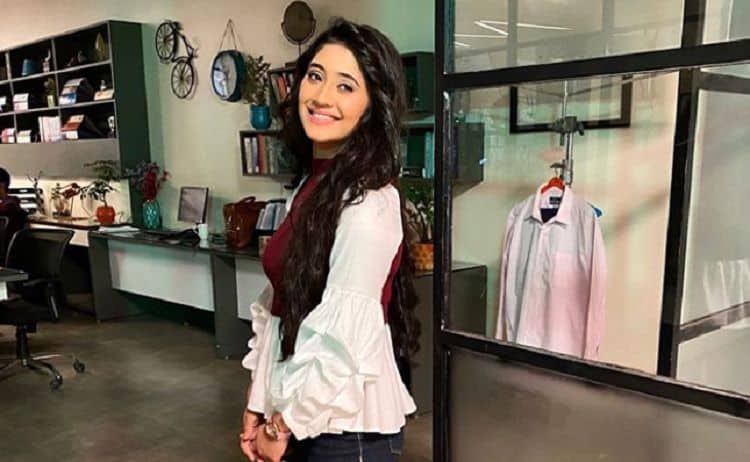 When you play your cards well, success will come knocking, but you must be willing to take the first step in the right direction. Actresses like Priyanka Chopra started their careers in Bollywood, and today, they have become lead actors in Hollywood films. Shivangi Joshi has not said that she is looking to shift to Hollywood, but it would give her career a significant boost. She now is mainly known for her role as Naira in "Yeh Rishta Kya Kehlata Hai," and her relationship with Mohsin has increased her popularity. So, let's share what we have learned about the actress whose career dates back to 2013 when she made her debut.
1. Her accolades
If there is one show that Shivangi will forever be grateful for being cast in, it has to be "Yeh Rishta Kya Kehlata Hai," which has been on air since 2009. In 2017, she was nominated to receive the Asian Viewers Television award for being the best actress. Although she did not bag the award, she went ahead to win Favorite Patni and Favorite Jodi, which she shared with her fellow actors. In 2018 and 2019, Shivangi won Gold Award and Indian Television Academy Award for Best Actress.
2. She takes every day as an opportunity to make herself better
They say once you get to the top, the view is fantastic. For Shivangi, most people would say that she has accomplished what most would want, but Shivangi does not think so. Every day presents an opportunity for the actress to better herself, and that is what drives her. In one interview. Shivangi said she is not looking to disappoint anyone, especially now that the show expects so much from her. To her, the chance she has been given is not one to waste, and making her parents proud is her main objective.
3. She works on her birthdays
Every day is a gift, but the day you were born bears a lot of significance as you count the blessing of being alive for an entire year. Shivangi enjoys her birthday because she gets to spend time with her family, who spoils her. However, she does not take time off her hectic schedule; instead, she keeps on working, but one thing she always looks forward to is wearing her birthday dress.
4. She is humble and appreciative of everything
Hollywood has its fair share of arrogant celebrities who dare not hide it. Take, for instance, Nicki Minaj who Mariah Carey compared to working with every day with Satan. Or maybe Jennifer Lopez, who could not talk to the flight attendant and instead relayed her order to her assistant to pass it along to the attendant. Well, that is what money does to some, but Shivangi knows that she would not be where she is without the support of others. She is, therefore, grateful to the crew for facilitating her impressive performance. She also does not believe she is at the peak of her career but instead needs to do a lot more to be an excellent actress.
5. What she loves most about the show's changes
We are used to seeing Indian dress in their beautiful ornaments and saris. When the show started, Shivangi was dressing in the traditional Indian attire, but with time, she has evolved into dressing more casually. Casual clothes are exciting for Shivangi, and she could not be more comfortable. Of course, for someone who has been wearing long skirts for so long, then getting to put on denim shorts and t-shirts barely covering her tummy, it must be a thrilling experience for the 21-year-old.
6. She thinks of Rajan Shahi as a father
Actors grow fond of crew members, and they hold the producers in high regard. Lea Michele of "Glee" even had to ask Ryan Murphy for approval to marry her husband, and Ryan Murphy went ahead to officiate the wedding. Shivangi also holds Rajan Shahi in such high esteem that, to her, he is like her father. Even though she has worked with many supportive producers, none stand out like Rajan, who to Shivangi is a gem as she told Fuzion Productions.
7. Her hobbies
Considering the many Bollywood we have watched, we expect that every Indian knows how to dance since their productions always have a dance scene. Shivangi abides by her Indian culture because one of her favorite pastime activities is dancing. The actress also loves riding bicycles, and she admits that her fans like to see her riding; hence, she has received many compliments. Shivangi confesses that she is a talented painter, so maybe even if acting had not worked out, we still would have our modern Mary Cassatt or Judith Leyster.
8. She did not think she would be a popular "Naira."
When Shivangi booked the role of Naira, she worried that she would not meet the expectations that fans had of the character. However, as PinkVilla published, her performance was above and beyond expectations. Shivangi portrayed maturity despite being young, and she says it was only possible because of the support she received from the entire team. Now, she is adored by fans thanks to her spectacular performance.
9. Her favorite Bollywood stars
It takes iron to sharpen iron, and although Shivangi is among the famous Bollywood stars, she believes she cannot compare with Alia Bhatt. Alia is not only an actress but a singer as well and ranks among the highest-paid actresses in India. Shivangi likes Alia because they can relate to each other due to their closeness in age, plus Alia's acting skills are topnotch. As for her favorite male Bollywood actor, that would have to be Ranveer Singh. He is also among the highest-paid actors in India and Forbes has listed him as the top 100 Indian celebrities since 2012
10. She is dating her fellow actor
Falling in love on the set is not strange; some of the happiest couples have set precedence, and Shivangi has followed suit. She always showered her co-star Mohsin Kahn with praises about how good of an actor he is. Mohsin also said that Shivangi is a natural actress, and they have a connection while acting. It is this undeniable chemistry that led to the two actors dating for the last two years. However, recently, rumors have been going around that they have broken up after they were spotted in separate vanity vans. However, Mohsin shut down the rumors saying he had mud after a fight scene hence needed to clean himself up in another van before joining her.
Tell us what's wrong with this post? How could we improve it? :)
Let us improve this post!