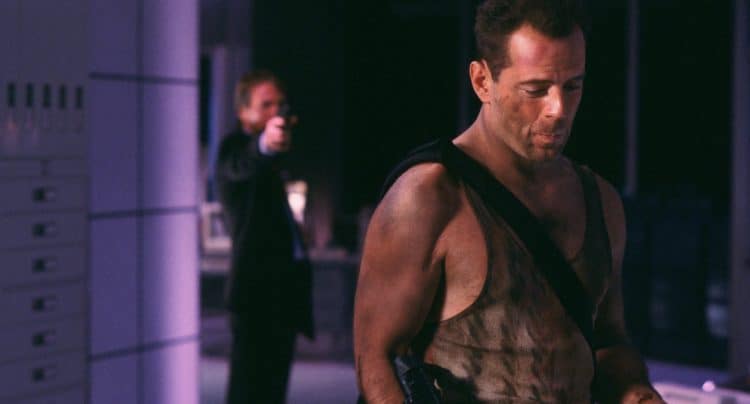 Unless you've been living under a rock for the past week, you've heard the news that Die Hard 6 has been canceled. Reportedly, the sixth installment was supposed to be a prequel that followed a young McClane in the 1970s before the events of the first film took place. The prequel-sequel was canned once Disney brought Fox films and changed their name to 20th-century studios. Now, the reported plan is to reboot the franchise and use a young actor in the role of John McClane, though there's been no confirmation about this news thus far. So, what happened? While we won't get the exact reason behind Dinsey's decision to suddenly cancel the reported sixth entry, we'll be examining possible reasons behind the decision to scrap it instead.
Disney doesn't want the stink of the last Die Hard film to carry on
A Good Day To Die Hard bombed hard with critics and audiences. First, the fifth entry of the franchise was trashed by critics, with many citing the film as a generic action movie that was stripped of any of its Die Hard DNA. Now, a movie getting bashed by critics doesn't always guarantee failure. Just look at the Transformers franchise, whose films were trashed by the critics (except Bumblebee) but still brought in over $500 million worldwide. Now based on the box office for A Good Day To Die Hard, the fifth entry didn't do too bad. The movie opened with $24 million in the first weekend and then went on to make$304 million worldwide. That's generally on par with what the series was making. However, feedback for the film was largely negative, with some actually labeling A Good Day To Die Hard as the franchise killer of the series. While we'll truly never know if A Good Day To Die Hard's momentum would've killed the sixth entry, there's no denying that Disney executives likely factored in the series potential going forward and determined that rebooting the franchise was a smarter choice.
Bruce Willis's stock has dropped dramatically
In the last ten years, Bruce Willis has taken a notable downward spiral. While gems such as Moonrise Kingdom and Looper are in his film catalog, the action star has mainly been doing cheap and generic straight-to-dvd action films that have been destroyed by critics and fans alike. In fact, in Bruce Willis's last seven films, the highest rotten tomato rating is 20% for Breach. While Willis does have two years of movies that have made over $100 million-plus domestically (Glass and The Lego Movie 2: The Second Part), those films are a part of a franchise that isn't being carried by the veteran actor himself. The last film that saw $100 million-plus with Willis being the star carrying the film was Live Free or Die Hard in 2007, with Red coming a close second in 2010 at $90.4 million.
Unless a film is a star-studded vehicle, Willis's star power isn't enough to carry a big-budget feature anymore thanks to his decision to star in easy cash grab movies that don't advance his career. That decision could be based on directors refusing to work with the actor, who's been noted as an extremely difficult person to work with onset. Kevin Smith notably described his time working with Willis during Cop Out, stating that the actor was "the unhappiest, most bitter, and meanest emo-bitch I've ever met at any job I've held down". An actor being difficult on film sets was nothing new, but given Willis's pedigree these days then his attitude isn't worth dealing with because he's not a bankable star.
Disney is looking to make Die Hard for the new generation
Hollywood is a business first and foremost. There's a reason why there are so many remakes, reboots, and sequels coming out these days. It's not that the writers can't come up with an original film, but it's far more bankable to use a popular intellectual property like Terminator or Halloween vs. an unknown film that nobody has a clue about. The Disney executive likely wanted to keep the brand hot by bringing in a new face to represent the Die Hard franchise, capitalizing on a new generation who has yet to discover the last five films but bringing in the old school fans would already recognize the franchise. At the end of the day, Bruce Willis is too old to carry the franchise going forward. He'll likely make special appearances in the film since he's a recognizable face of the Die Hard brand, but the chances of Willis leading the Die Hard franchise is slim to none.