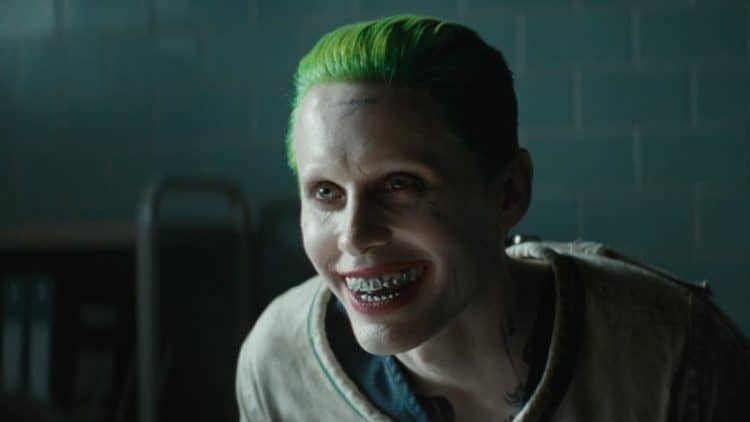 Well, surprising news just keeps piling on. I'll admit, I didn't think Jared Leto would ever reprise his role as the Joker in the DC Cinematic Universe. I remember last year when the rumors were floating around about how he tried to sabotaged the Todd Phillips Joker movie. It wasn't true, but still, I reckon Leto wasn't too happy about DC going with another live-action Joker. Let's also not forget the poor reception his performance received when his Joker debuted in 2016. People didn't like him in Suicide Squad. It's that simple, but to be fair, he was barely in it. Most of the scenes he shot were sadly left on the cutting room floor and his opportunity to bring us a new Joker was a big dud. I always thought to myself, "What did David Ayer originally intend to show us with Leto's Joker?".
Now I know I'm in the minority here, but I actually dug Leto's performance as the Joker. The real issue was it was his lack of screen time and the script he was given. C'mon, would Heath Ledger or Jack Nicholson deliver the performances they did if they had bad scripts? I think I'm being fair, but I get why people wouldn't be excited to have him come back. Heck, that's probably why he hasn't been really stoked about returning as the Clown Prince of Crime. I can't blame him, but if these last few months have proven anything, it's that actors can always change their minds.
The thing is, I wouldn't expect him to reprise his role in the upcoming Snyder Cut of Justice League. I would like to see him again (done right, of course), but how can he possibly fit in the Snyder Cut of Justice League? I'll begin by saying that it probably won't be a huge role, but it could still be a significant one. If Joker is going to be in something, you know he's going to find a way to plague Batman. That's just what he does. But he's not the main villain in Justice League, because that role still belongs to Steppenwolf. I can't see a reason why Steppenwolf would want to team up with the Joker, so he'll probably cross paths with Batman before his invasion of Earth begins. Batman is always operating at night and Joker is still at large. But how would their interaction play out?
My first guess is flashback. It's the easiest route, because Leto's Joker can be shown having an actual interaction with Batman, while not playing a big role in Justice League. The importance lies in the manner of the flashback. Let's take a trip down memory lane and go back to when the first time Joker was referenced in the DCEU. I'm talking about the scene in Batman vs. Superman, when Bruce Wayne sadly gazed upon the suit of his former sidekick, Robin. The insinuation behind it: Robin was dead and the graffiti on the suit heavily implied that Joker was the killer. Jason Todd vibes, anyone?
That was a brief, but very crucial scene for Batman's character. The best thing about it was that Bruce Wayne was silent the whole time, but in his face, you can see the emotions. It was an ugly combination of anger, grief, guilt, and a desire for vengeance. All of these feelings that Bruce was feeling in that scene is what he was carrying out during the whole film. He was no longer a champion of justice, but an agent of vengeance fighting strictly out of anger and hate. Being a twenty year veteran vigilante could do that to a man, but Joker has always been a prominent architect of Batman's pain. It's no different in the realm of the DCEU and that BVS scene proves it. Joker killed Batman's protege and Batman has been suffering ever since.
This heated enmity was referenced even further when we saw Jared Leto's Joker for the first time. What was so significant about his appearance that separated him from the other Jokers? Other than the crazy tattoos, he's got some very bright grills. Talk about doing something different, right? How did he get them? Well, it wasn't by choice. Joker killed Robin, so Batman knocked out his teeth. Now, I'm not sure why he didn't kill him, but then again we could get that answer in the near future. David Ayer even confirmed the grills were Batman's doing. What I like about it is that it further explains how deep their enmity goes. It's the physical proof that Batman has taken some form of revenge against his archenemy. More importantly, the death of Robin at the hands of Joker proves that his crimes have effected Batman deeply.
It's a rivalry that will never change. Zack Snyder set the stages for their enmity in the DCEU, now he has a chance to expand on it. If Jared Leto's Joker appears in a flashback, I'd like to see that scene where Batman smashes his teeth in. Joker's reaction would just be to continue laughing that maniacal laugh. He'll beat him, but he clearly didn't kill him. But this is a more violent Batman, so why didn't he? That's a question Snyder can answer in this new cut. He can go even further by showing us how the death of Robin changed Batman for the worse and made him lose his nerve. That's how it happened in the comics, so the movies should be no different. Batman also never took on another Robin after losing this one, so that's another element Snyder can expand on.
The next question is, which Robin did Joker kill? The first answer would be Jason Todd, but Snyder has come out and said he actually intended the dead Robin to be Dick Grayson. That's right, he wanted to kill off the first Robin. He was hoping to introduce Carrie Kelley, the thirteen-year-old schoolgirl who became Batman's Robin in The Dark Knight Returns comic. If Snyder gets a chance to continue his vision, this would be quite the deviation. I'd rather have him stick to the original route with Jason Todd being dead, but then again, it's good to do something different. This is something he can briefly touch on while setting up a future Robin for the DCEU. All of that set up would be because Jared Leto's Joker killed the owner of that Robin suit.
If Snyder goes this route, he can show how Batman suffered because of Joker's actions, but he can also show how Batman learned to move on from the pain he caused him. If he's going to make Joker's presence mean something in his new cut of Justice League, the best way to do that would be to show us how he affected Batman's life. He can never do this alone, so the console of Wonder Woman and Superman can push him in the right direction again.
What are your thoughts, DC fans? Anyone else excited Jared Leto's return as the Joker? This is his second chance to show us what he's got, so let's hope he makes the best of it.