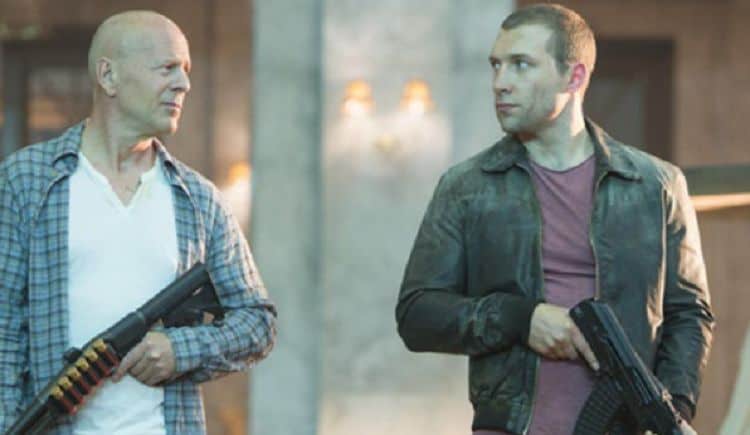 Keep in mind this is a lot of opinion since a lot of people are going to claim that Bruce Willis has been in GREAT movies in recent years when in truth some would say the last time was confined to one or another year in which one of his better movies came out. Some would say that Die Hard was one of his last great movies, while others might want to go so far and say that Sin City was one of his best. Some might even claim 2012 when he starred in Moonrise Kingdom and Looper. Does anyone remember either of those? People might remember Looper first since it had to do with time travel and also starred Joseph Gordon-Leavitt as Bruce's younger self. But seriously, it's been a while since Bruce was in a great movie since he's starred in plenty that many think are decent in some ways but ended up tanking in others. His part in G.I. Joe: Retaliation was definitely campy and more than a little cringe-worthy, while his time in The Sixth Sense back in 1999. In fact, some might say that the 80s and 90s helped to produce some of Bruce's best work since that was when he was still young enough to be believable in his roles and hadn't taken on the true look of a man that's trying to hold back the years and has gone way beyond what would be possible from a man of his age.
Look at one of the most popular characters he's ever created, John McClane. The guy was a New York cop who somehow went up against a group of trained terrorists and killed all of them, well, all but one since his limo driver knocked one of them unconscious. But by all rights, and this is hard to say since I like the movie, John McClane should have never survived through the first movie. And if that's not enough, he shouldn't have survived through the second, and the third, and the fourth, and the fifth. If there's another Die Hard movie coming, then it had better be the end of McClane, just to put the character out of our misery at this point since like it or not, he's reached superhero, legendary status by now and he's just a regular cop that's been doing anything and everything except his job in these movies. Die Hard was great since we could chalk it up to the idea that the terrorists had no idea who they were up against and therefore didn't know how to handle him. But against soldiers, against more terrorists, and against a hacker and his female companion that was kicking the living hell out of John for a while, he should have been down and out for the count.
But his best movie as of late, in my own personal opinion, would be the remake of Death Wish in 2018, and I'll give my reasoning. It wasn't the greatest movie in the world, but it wasn't too bad since it was a return to a role in which he had to toughen up once again, and he had to simply become the tough guy in order to avenge his family. Granted, it wasn't the greatest movie, but it was good enough in the sense that he managed to find the chance to kill a few bad guys and get away with it since the law couldn't do anything. The simplicity of it was nice since it didn't require too much thought and it didn't really need any of the reflection that people were willing to give it since to be fair, Charles Bronson was the first and best in this kind of role, at least when it comes to this particular movie. But apart from that, Bruce has simply been stepping out and into the path of the camera for one reason or another over the years, and much of the time the question of why has been tempting to ask since it doesn't appear that he needs the money, and could possibly just ease back and relax for a while. If he'd managed to get himself into serious financial trouble as Nicolas Cage did it would be easy to understand since Cage had to start paying back the money he owed and therefore had to keep working his tail off with straight to video releases that have been coming out for several years now.
But it could be that age is catching up with Bruce and he's wanting to claim whatever glory he can at the moment, which would make a little more sense. But there's little to no grace in what he's doing at the moment since right now he's simply tarnishing the reputation he built over the years with one horrible movie after another. Seriously, if people have to argue over when your last good movie was made, then it's possible that, as an actor, you've truly slipped off the beaten path.