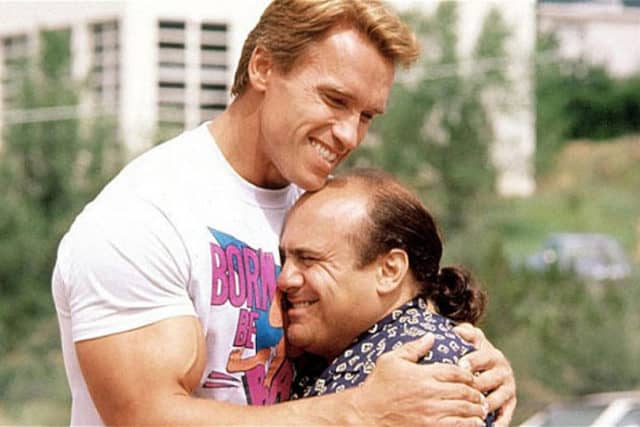 Danny DeVito kind of gets forgotten at times it seems. It seems to be that he kind of disappears for a while and then comes back in a big way, creating something that you find insanely touching, funny, or somewhere in between the two, as you wonder where he's been. His acting is great, his comedy is hilarious, and with almost any costar he's bound to be someone that you remember was in the movie you watched a few years ago or just yesterday. And yet he's been underrated for so long that it's easy to think that he tends to just step away from Hollywood for a while to get a break. He's missed at times though since he's one of the best older actors still in the game.
Admit it, you really don't know he's not there until he gets back.
5. The Lorax-the Lorax
The Lorax is the fuzzy little guy that speaks for the trees and really doesn't care for people chopping the truffula trees down for any reason. He doesn't strike with bolts of lightning or earthquakes that might tear up the landscape and make his point at the expense of the lands he's protecting. He'll let people do the damage and then realize just what a mistake they've made. From that point one can only hope that they've learned their lesson.
4. Jack the Bear-John Leary
It's not easy when a child has to take on the responsibilities of the parent in order to keep a household running. Jack the Bear is about young Jack Leary, who must help his father and younger brother out after his mother dies. His father John is an alcoholic and Jack is dealing a number of issues in his own life that don't tend to make things better. By the end of the film however John and Jack finally realize just what they need to do to get things back on an even keel.
3. Throw Momma from the Train-Owen
Owen is that guy that never moved away from home and as a result had to take care of his ailing mother and is now stuck in a rut that he can't seem to climb out of. He's a nice guy, but he's emotionally closed off and can't seem to connect with anyone aside from his English teacher, who wants nothing to do with him most times, especially when Owen makes a proposal that is just crazy enough to work.
2. Matilda-Mr. Wormwood/Narrator
DeVito gets to play two roles here, one that's neutral and one that's just horrible. As the narrator he gets to outline Matilda's life and talk about how special she is. As Matilda's father, Mr. Wormwood, he's one of the absolute worst characters ever created. He's a cheater, a schemer, and can't even seem to recall just how old his own daughter is most times.
1. Twins-Vincent
DeVito knows how to play nasty characters but he also knows how to play those that have at least some redemptive qualities. Vincent is close to being as bad as they come when it involves lying and scheming but deep down he's a good person. It's just finding that spark of goodness that's tough.
One very good reason that we don't see a lot of Danny DeVito these days is that he's getting up in years. He's still a great actor, but it could be that he needs a well-deserved break now and then.
Tell us what's wrong with this post? How could we improve it? :)
Let us improve this post!