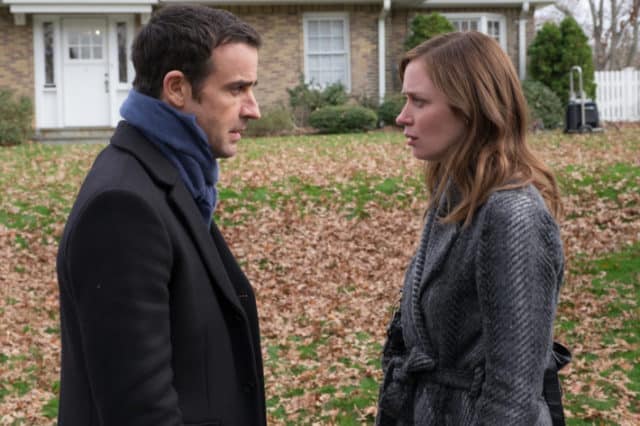 I can see why The Girl on the Train would have been gripping for anyone. It's something that could possibly happen if a woman like Rachel, without a stable relationship and being prone to alcoholic blackouts, witnessed something that she couldn't understand. The intrigue, the deception, and the confusing twists and turns no doubt led people further and further in until they finally found out just who killed the woman that Rachel had been seeing during her daily commute. While pining for a past she could no longer have Rachel found out that digging back into it gets you nothing but dirty.
Here are 10 things you might not know about the film.
10. Emily Blunt was pregnant when they started shooting.
She didn't tell anyone except one of her costars and by the time the film was done shooting she was five months along, and she had to tell them since her bump was quite noticeable.
9. Blunt would wear bloodshot contacts and cheek prostheses.
This was to give her the look of being severely inebriated and to make certain that it looked like the alcoholism had affected her in some way.
8. Fans didn't think that Blunt had the right look for a broken down alcoholic.
She was deemed too attractive for a woman that had spent a good part of her life in the grip of alcoholism, though there was no change to her part obviously.
7. The story was originally set in London but for the movie it was done in New York.
There could have been an issue with the cost of licensing to shoot in London or perhaps the director simply wanted to change the venue for the sake of the movie.
6. The moment in AA is unrehearsed.
She never rehearsed this part. The nervousness and the hesitancy are very real. Imagine what it might be like if you went to an AA meeting and were asked to share with those that have really gone through this kind of thing, it might be a little nerve-wracking.
5. Lisa Kudrow's character doesn't exist in the novel.
She could have been put in to add a little more depth to the story, perhaps plug up a hole where the director felt it was needed.
4. Blunt's character is supposedly infertile.
Her character is supposed to be a bit chubby from alcoholism. The fact that she was starting to show her pregnancy helped just a little bit throughout the film.
3. The novel hit the New York Bestseller's list and stayed there for 15 weeks.
13 of those weeks were consecutive, which is very impressive.
2. There were talks of Chris Evans and Jared Leto joining the cast.
Both of them would have had very influential and important roles in the film as Tom and Scott, but they both had to bow out due to scheduling issues.
1. The author wanted Michelle Williams for the role of Rachel initially.
Williams and Blunt have very different looks, meaning that Williams might have been able to pull off the look of an alcoholic, no offense to her, in a very different way than Blunt could.
This movie will definitely twist you up more than you expect.
Tell us what's wrong with this post? How could we improve it? :)
Let us improve this post!